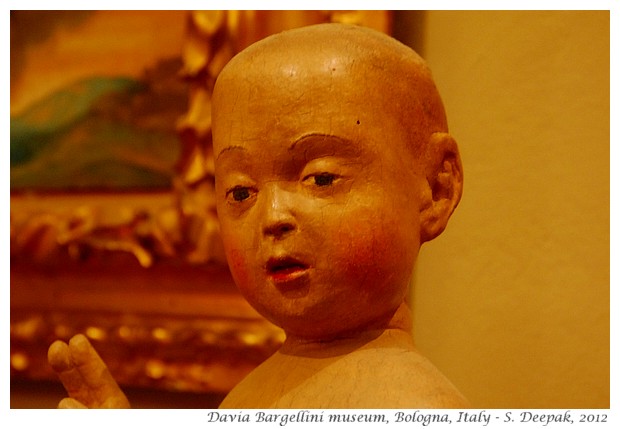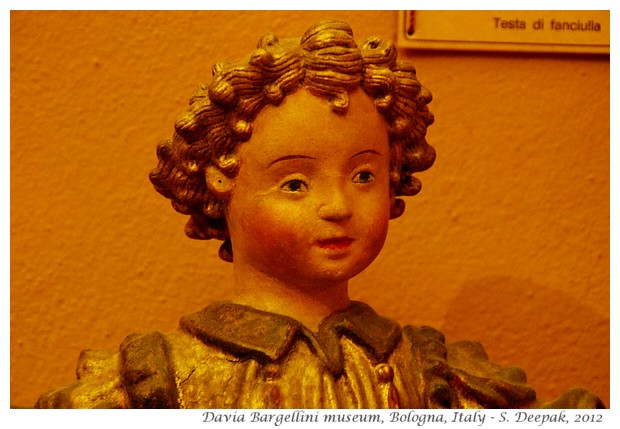 Bologna, Italy: Davia Bargellini museum, based in the Bargellini family's house from 1500 AD, presents the family's private art collection. Three statues, whose facial expressions I liked, from this museum are presented today. These private collection give a glimpse of the living styles of a bygone era. In that epoca, Italian painters and sculptors were famous in all of Europe, and they heavily influenced the future development of European art. While on one side countries like UK, France, Belgium, Spain, Holland and Portugal gathered riches through colonization of the world from Australia in the east to Argentina and Colombia in the west, Italy became prosperous because it was centre of European art and culture.
बोलोनिया, इटलीः दाविया बारजेलीनी संग्रहालय, सन 1500 ईस्वी में बने बारजेलीनी परिवार के भवन में, उनका व्यक्तिगत कला संग्रह प्रस्तुत करता है. इसी संग्रहालय से तीन मूर्तियाँ प्रस्तुत हैं जिनके चेहरों के भाव मुझे अच्छे लगे. इसी तरह के व्यक्तिगत संग्रहों से गुज़रे समय के इतिहास की झलक दिखती है. उस युग में इटली के चित्रकारों और शिल्पकारों ने सारे यूरोप में अपनी धाक जमायी थी, और उन्होंने यूरोपीय कला के विकास पर गहरा प्रभाव छोड़ा. जहाँ एक ओर ईंग्लैंड, फ्राँस, बेल्जियम, स्पेन, हालैंड, पुर्तगाल जैसे देशों ने पूर्व में आस्ट्रेलिया से ले कर पश्चिम में अर्जैंनटीना और कोलोम्बिया तक अपने उपनिवेशी शासन बना कर समृद्धी पायी, दूसरी ओर इटली को यह समृद्धी यूरोपीय कला और सभ्यता के केन्द्र होने से मिली.
Bologna, Italia: Il museo Davia Bargellini, ospitato nella casa della famiglia Bargellini del 1500, presenta la collezione privata di questa famiglia. Oggi vi presento tre statue da questa collezione, delle quali mi piacciono le espressioni. Questo tipo di collezioni private permettono uno sguardo agli stili di vita dei tempi passati. In quell'epoca, i pittori e gli scultori italiani erano famosi in tutta l'Europa e avevano fortemente influenzato lo sviluppo dell'arte europea. Mentre da una parte, i paesi come Regno Unito, Francia, Belgio, Spagna, Olanda e Portogallo avevano trovato ricchezze tramite la colonizzazione del mondo, dall'Australia ad'est e all'Argentina e alla Colombia ad ovest, Italia ha trovato la prosperità perché era il centro d'arte e di cultura per tutta l'Europa.
***