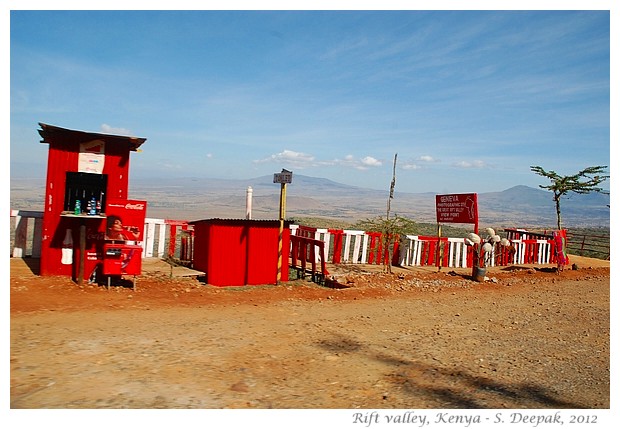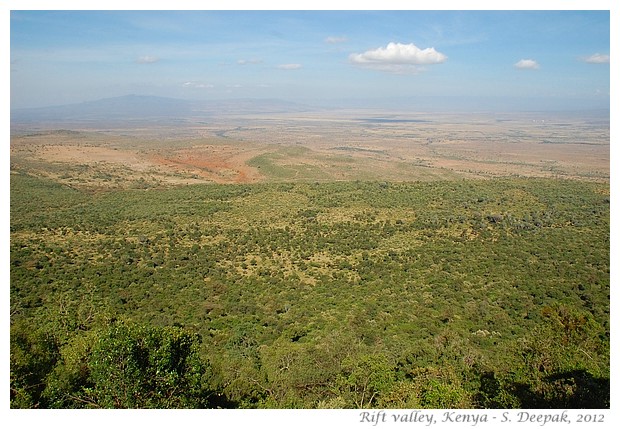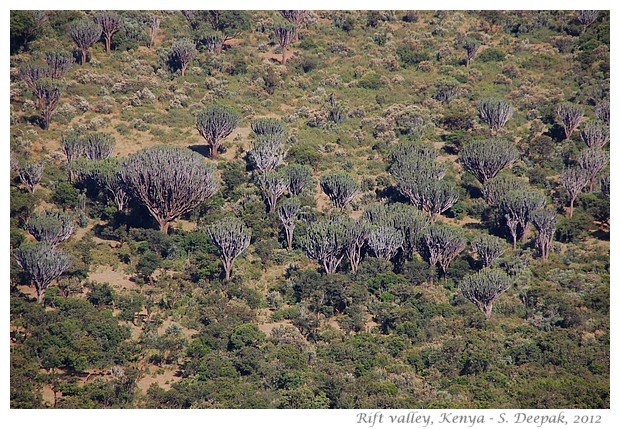 Kenya: Rift valley is a huge geological formation caused by separation of earth's tectonic plates, extending from Syria in the north to Tanzania in the south. From the green Nairobi on the top of mountains at 2 thousand meters, when you reach the valley, the vegetation changes. Mountain trees give way to acacia and cactus. Further down you can see the tall savanna grass in the valley where you find animals like zebras, giraffes and deer.
कीनियाः धरती के नीचे भूतल के टुकड़ों के अलग होने से बनी विभ्रँश घाटी उत्तर में सीरिया से ले कर दक्षिण में तनज़ानिया तक जाती है. दो हज़ार मीटर ऊँचे पहाड़ पर बसी हरी भरी नैरोबी से जब घाटी पहुँचते हैं तो वनस्पत्ति का रूप बदल जाता है. पहाड़ी पेड़ों की जगह बबूल और कैक्टस आ जाते हैं. और नीचे जायें तो ऊँची घास के मैदान शुरु हो जाते हैं, जिसमें ज़ेबरे, जिराफ, हिरन जैसे जानवर मिलते हैं.
Kenya: La valle tettonica è un'enorme formazione geologica, causata dalla separazione delle placche terrestri, che si estende giù dalla Siria in nord fino alla Tanzania. Dalla verde Nairobi situata a 2 mila metri, quando si arriva alla valle, la vegetazione cambia. Gli alberi di montagna lasciano spazio alle acacie e ai cactus. Ancora sotto nella valle, si vede l'erba alta della savana dove si possono trovare animali come zebre, giraffe e cervi.
***