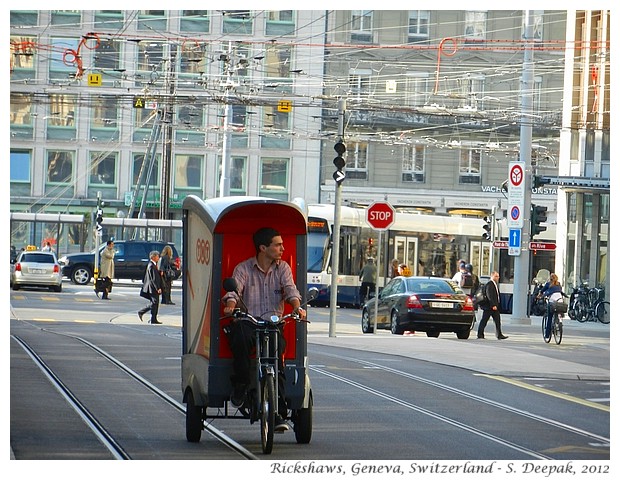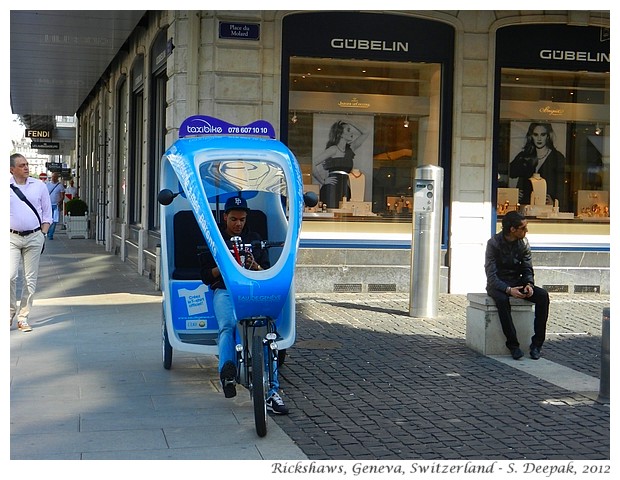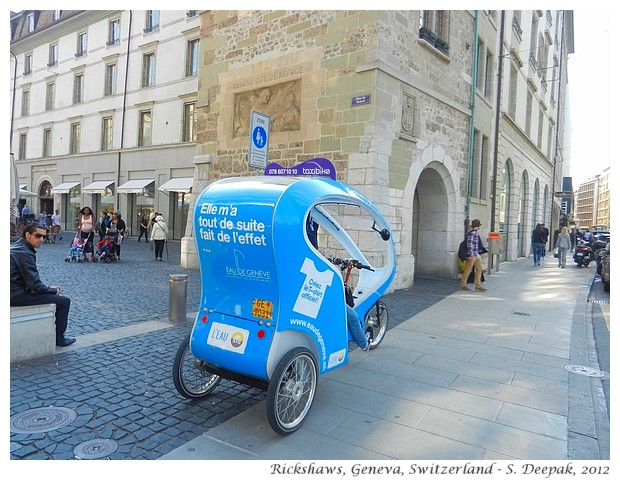 Geneva, Switzerland: If your educated son tells you that he drives a rickshaw in Europe, will you feel proud of it? Driving a rickshaw is usually seen as human exploitation because of poverty and circumstances. However if this allows your son to be self-dependent during his studies, and provides him healthy exercise through manual labour, shouldn't you be proud? Growing up in India where the thinking of "This work is inferior, this work is not up to my level" is so strong, if such an experience teaches you about human equality and dignity of work, then it must be good. And there is no pollution or noise. What do you say?
जेनेवा, स्विटज़रलैंडः अगर आप का पढ़ा लिखा बेटा कहे कि वह यूरोप में रिक्शा चलाता है तो क्या आप को गर्व होगा? रिक्शा चलाने को अक्सर गरीबी और लाचारी के रूप में मानव द्वारा मानव शोषण के रूप में देखते हैं. पर अगर आप का बेटा अपनी पढ़ाई के दिनों में इससे आत्मनिर्भर होता है और प्रतिदिन मेहनत के व्यायाम से स्वस्थ्य भी तो गर्व क्यों नहीं होना चाहिये? भारत में "यह काम छोटा है, यह काम नीचा है" की सोच के बीच में बड़ा होने पर, शायद इस तरह का अनुभव, मानव की बराबरी और काम की गरिमा सिखाये तो बढ़िया बात ही होगी! फ़िर न वातावरण का प्रदूषण, न शोर. आप का क्या विचार है?
Ginevra, Svizzera: Se tuo figlio universitario guidasse uno risciò, ne sarai orgoglioso? Guidare un risciò è visto come sfruttamento umano in India perché è collegato alla povertà e alla mancanza di alternative. Ma se questo permette il tuo figlio di essere autosufficiente mentre studia, e gli dà esercizio fisico regolare, perché non dovresti esserne orgoglioso? In India è diffusa la mentalità che classifica alcuni lavori come "manuali e inferiori", per cui un'esperienza del genere che ti insegna l'uguaglianza tra le persone e la dignità del lavoro, penso che sia bello. Inoltre, non inquina, ne produce rumore. Cosa ne pensi?
***