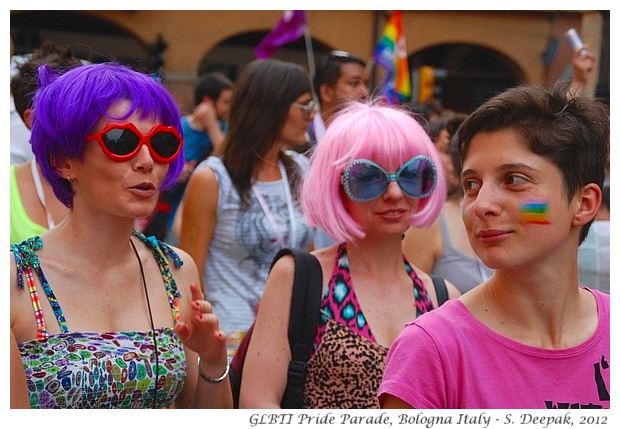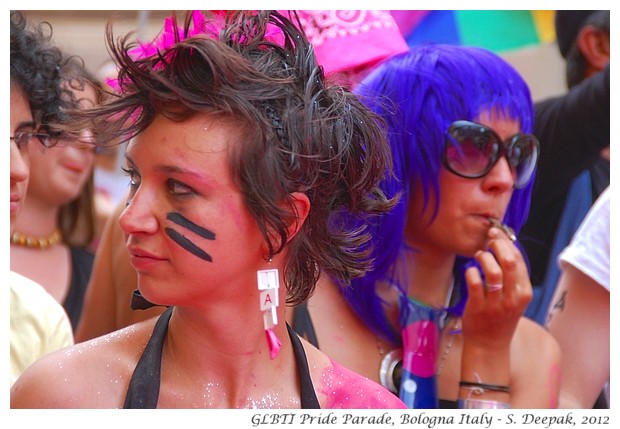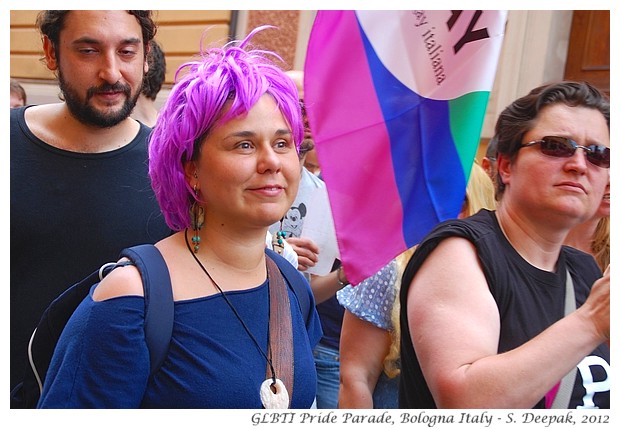 Bologna, Italy: If two women love each other and want to live together, then I can't understand why some people get so worked up about it? They call it illegal and in some countries these women get jail or even death. In India some people say that it is against our culture. I think that these persons do not know Indian culture and are instead influenced by ideas of Victorian England. Something that arises in your heart and emotions, that does not hurt others, how can that be against any culture? Today's images have purple hairs from the Gay Lesbian Bisexual Transexual pride parade. Purple is also the colour of flag of Italian lesbian association.
बोलोनिया, इटलीः दो युवतियाँ एक दूसरे से प्यार करें और साथ रहना चाहें, तो मुझे समझ नहीं आता कि लोग इस बात से क्यों गुस्सा करते हैं? उसे गैरकानूनी कहते हैं, यहाँ तक कि कुछ देशों में उन्हें कारावास या मृत्युदँड मिलता है. भारत में कुछ लोग कहते हैं कि यह भारतीय संस्कृति के विरुद्ध है. मेरे विचार में वह लोग भारतीय संस्कृति को ठीक से नहीं जानते और समझते, बल्कि उनकी सोच विकटोरियन ईंग्लैंड के विचारों से प्रभावित है. जिसकी प्रेम भावना मन में होती है, जिससे किसी अन्य का कुछ बुरा नहीं होता, वह किसी भी संस्कृति के विरुद्ध कैसे हो सकता है? आज की तस्वीरों में बोलोनिया समलैंगिक द्विलैंगिक अंतरलैंगिक गर्व परेड से जामुनी बालों वाली युवतियाँ. इटली की समलैंगिक युवतियों की संस्था ने अपने झँडे का रंग भी जामुनी ही चुना है.
Bologna, Italia: Se due donne si amano e vogliono vivere insieme, non capisco perché ciò fa arrabbiare alcune persone? Questo amore, la chiamano illegale. In alcuni paesi le mettono nelle prigioni o le uccidono. In India alcuni dicono che questo amore è contro la nostra cultura. Penso che queste persone non conoscono la cultura indiana e piuttosto sono influenzati dal modo di pensare dell'Inghilterra vittoriana. Qualcosa che nasce dall'amore, che non fa male agli altri, come può essere contro qualunque cultura? Le immagini di oggi hanno donne con i capelli viola dalla parata Orgoglio GLBTI. Viola è anche il colore dell'associazione lesbica italiana.
***