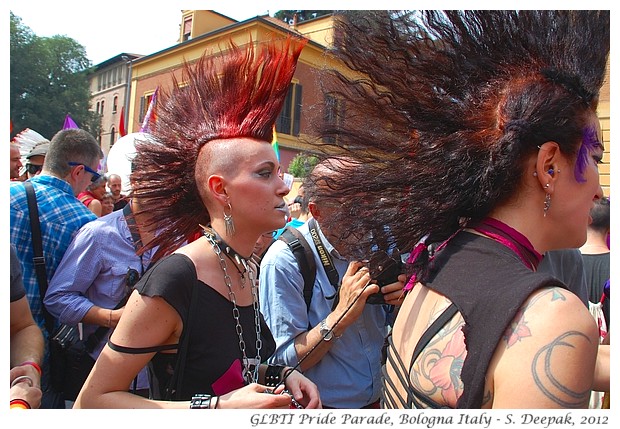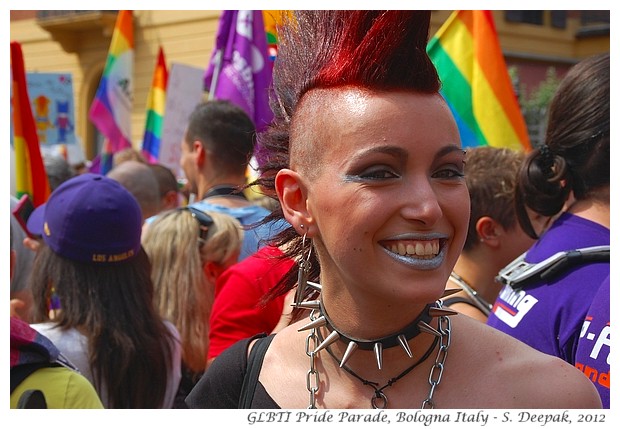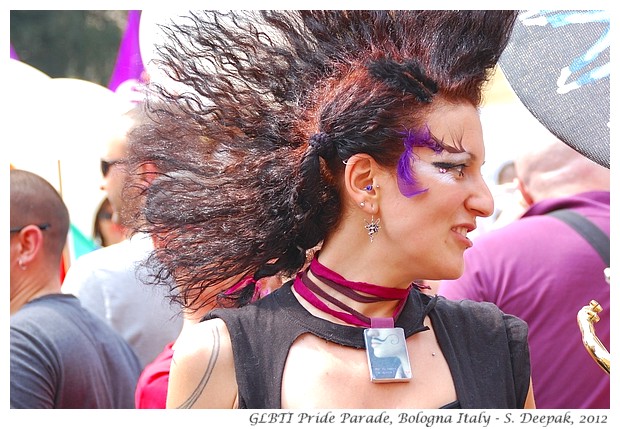 Bologna, Italy: I love the strange and colourful punk hair styles and I also feel a little sad that I never ever had the courage to get my hair in this style. At the gay pride parade when I saw this couple I thought to myself, "So when someone says that 'I had so much fright, my hair stood straight', this is what they mean!" Their dress, accessories, makeup everything was distinctive. However, I have a question in my mind - how do you sleep with a hair style like this? I mean you can't use a pillow, can you?
बोलोनिया, इटलीः मुझे पँक शैली के अजीबो गरीब तरीके वाले रंगबिरंगे बाल बहुत अच्छे लगते हैं और हमेशा कुछ दुख भी होता है कि मुझे कभी इस तरह की शैली में अपने बाल बनवाने की हिम्मत नहीं हुई. समलैंगिक गर्व परेड में इन दो सखियों के बाल देखे तो सोचा कि "अब समझ में आया कि जब कहते हैं कि डर के मारे रोंगटे खड़े हो गये, तो उसका क्या अर्थ होता है!" उनके वस्त्र, गहने, साज सिंगार, सभी अनोखे थे. एक प्रश्न भी है मन में कि इस तरह के बाल बने हों तो रात को सोते कैसे हैं? यानि तकिये पर सिर तो रख नहीं सकते?
Bologna, Italia: Amo i capelli acconciati in stile punk e mi dispiace un po' che non ho mai avuto il coraggio di provare uno di questi stili. Alla parata GLBTI quando ho visto questa coppia ho pensato, "Quando si dice che dalla paura i suoi peli erano raddrizzati, forse vogliono dire che diventano così!" I loro vestiti, accessori e trucco, tutto era speciale. Ma ho una domanda nella mia testa, con una acconciatura così, come si dorme? Si può mettere la testa su un cuscino?
***