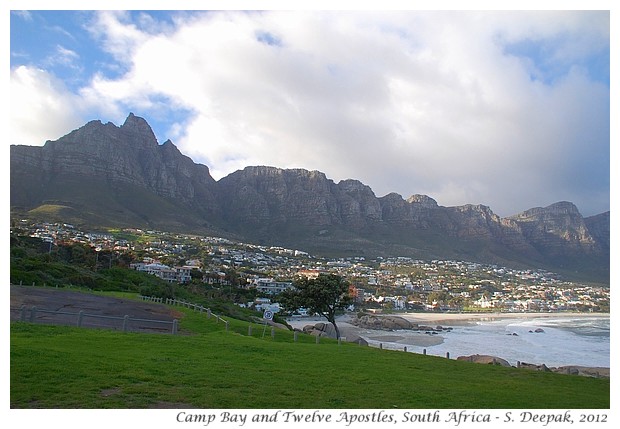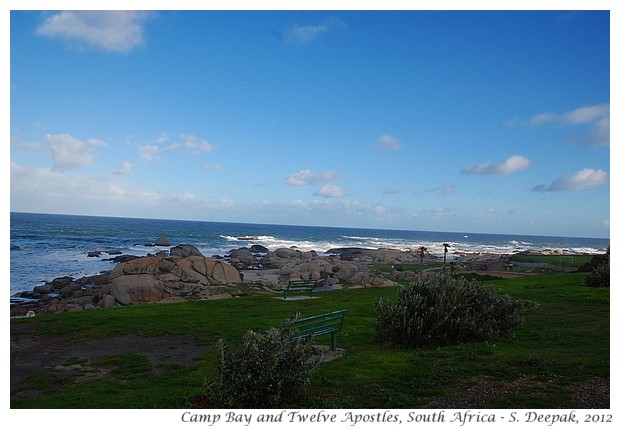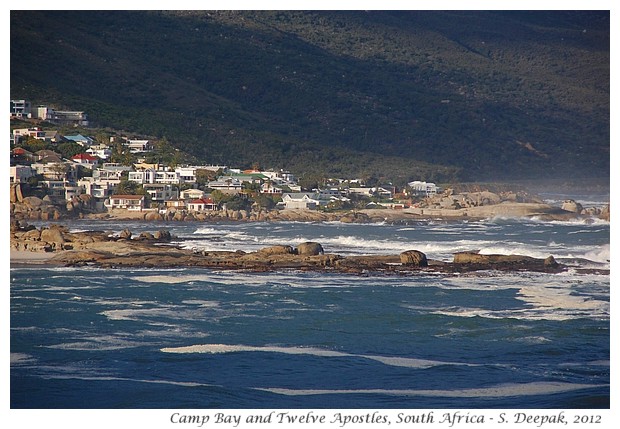 Camp Bay, South Africa: If you go south-east along the coast from Cape Town, you see the imposing mountain group of "Twelve Apostles". It is a beautiful place. This name was given by European settlers. Though the peaks are 18, the name remembers the 12 apostles from Bible. Linguistically, South Africa is similar to India. Its people speak 23 languages but every where English dominates. Though I tried, I could not discover the name of "12 Apostles" in the language of people who lived there before Europeans.
केम्पबे, दक्षिण अफ्रीकाः केपटाउन से समुद्र के साथ साथ दक्षिण पूर्व दिशा में जायें तो "टवेल्व अपोस्टल्स" यानि "बारह संत" नाम की भव्य पर्वत श्रृँख्ला मिलती है. बहुत सुन्दर जगह है. यह नाम उन्हें यूरोप से आने वाले लोगों ने दिया. हालाँकि पर्वत शिखाएँ 18 हैं पर यह नाम बाइबल में येसू के 12 शिष्य-अनुयायिओं को याद करता है. भाषाओं की दृष्टि से दक्षिण अफ्रीका भारत जैसा ही है. वहाँ के लोगों की 23 भाषाएँ हैं पर हर जगह अंग्रेज़ी ही चलती है. जानने की कोशिश की पर पता नहीं चला कि "टवेल्व अपोस्टल्स" को वहाँ रहने वाले मूल निवासी किस नाम से पुकारते थे?
Camp Bay, Sud Africa: Dalla Città del Capo, se andrete verso sud-est lungo la costa, incontrerete la magnifica catena di montagne chiamata "12 Apostoli". E' un posto molto bello. Questo nome è stato dato dai coloni europei. Anche se i picchi sono 18, il nome ricorda i 12 apostoli della Bibbia. Dal punto di vista linguistico, la Sud Africa somiglia all'India. Ha 23 lingue locali ma dappertutto domina l'inglese. Anche se ho provato, non sono riuscito a scoprire il nome dei "12 Apostoli" nella lingua delle persone che abitavano da quelle parti prima degli europei.
***