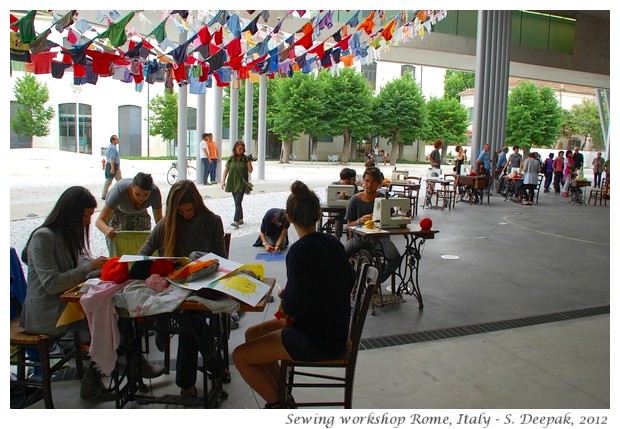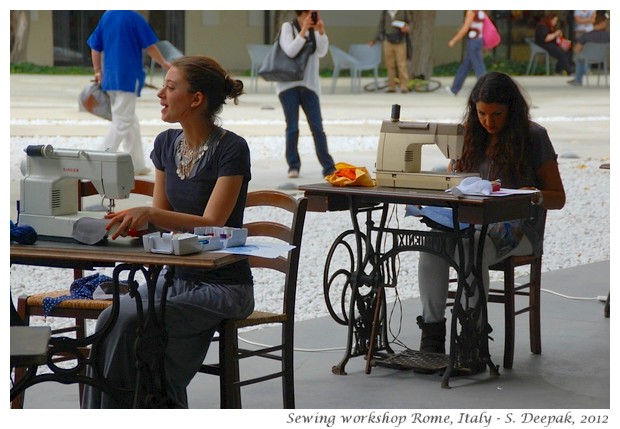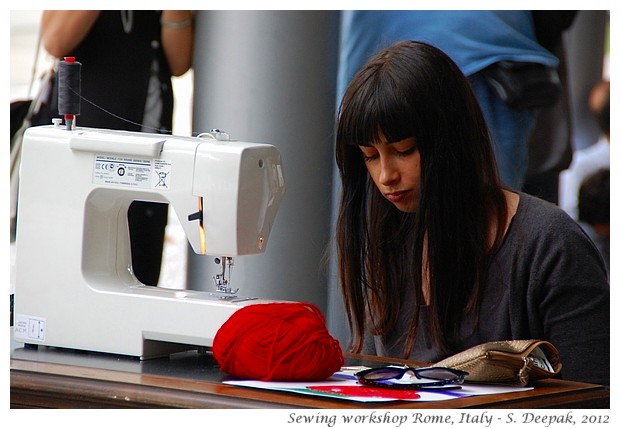 Rome, Italy: I think that sewing and knitting are forms of art and a good tailor is not less than any artist, even if most people don't see it that way. In the fashion world persons like Valentino and Armani are seen as artists but may be it has more to do with their being rich and famous. Today's images are from a tailoring and design workshop in Rome.
रोम, इटलीः मेरे विचार में सिलाई और बुनायी कलाविधि के रूप हैं और अच्छे दर्ज़ी किसी कलाकार से कम नहीं, हालाँकि अधिकतर लोग उसे इस रूप में नहीं देखते. फैशन जगत में वालेन्तीनो या अरमानी जैसे लोगों को कलाकार होने का सम्मान भी मिलता है, लेकिन शायद वह उनके कलाकार होने की पहचान का नहीं बल्कि पैसे और प्रसिद्धि की वजह से होता है. आज की तस्वीरों में रोम से सिलाई बनायी की वर्कशाप की कुछ तस्वीरें.
Roma, Italia: Penso che cucire e lavorare a maglia sono forme d'arte e un buon sarto non è meno di un'artista, ma molte persone non la vedono così. Nel mondo della moda persone come Valentino e Armani sono viste come artisti, ma forse ha da fare più con la loro ricchezza e fama. Le immagini di oggi sono un laboratorio di cucito a Roma.
***