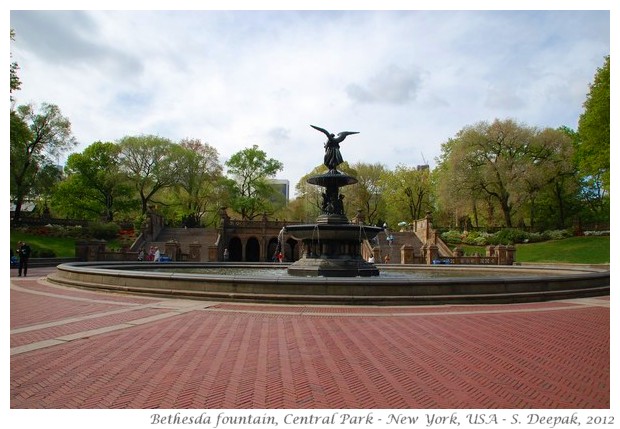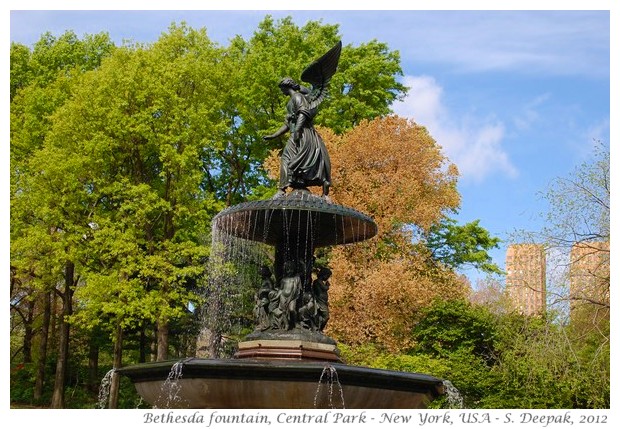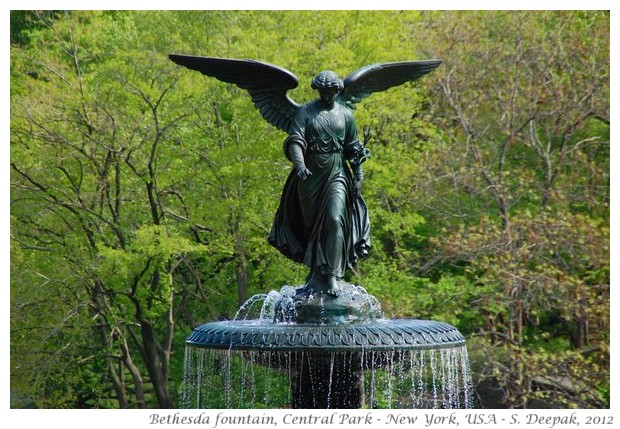 New York, USA: Shown in many Hollywood films and TV serials, when you first see the Bethesda fountain, built in 1873 in the central park, it may look familiar. It has the statue of a water angel by American artist Emma Stabbins, with lily flowers in her left hand while with her right hand she blesses the water for purity.
न्यू योर्क, अमरीकाः होलीवुड की बहुत सी फ़िल्मों और टीवी सीरियल में देखा हुआ, सैंट्रल पार्क में 1873 का बना बेथेस्डा फुव्हारा पहली बार देखो तो भी जाना पहचाना सा लगता है. इसमें अमरीकी शिल्पकारा एम्मा स्टेबिन्नस द्वारा बनायी जल परी की मूर्ती है जिसके बायें हाथ में कुमुदनी के फ़ूल हैं और वह दायें हाथ से पानी को पवित्रता और स्वछता का आशीर्वाद दे रही है.
Nuova York, Stati Uniti: Già vista in diversi film e telefilm di Hollywood, quando vedi per la prima volta la fontana di Bethesda costruita nel 1873 nel central park, ti può sembrare familiare. Ha una statua di un angelo dell'acqua della scultrice americana Emma Stabbins, con i gigli nella mano sinistra, mentre con la mano destra dà la benedizione della purezza all'acqua.
***