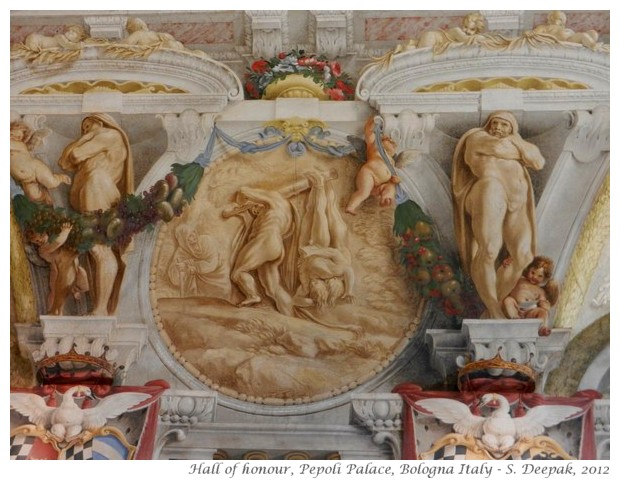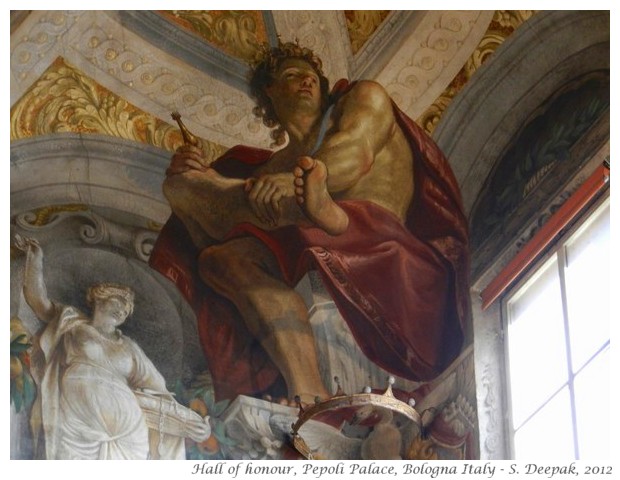 Bologna, Italy: Pepoli Palace built in 1653 hosts an art museum, but the frescoes on its walls and roofs are more beautiful than the paintings of the museum. Today's images have parts of the roof from the hall of honour of this building. This hall is also known as "Hall of triumph of Hercules" because its frescoes tell the story of the Hercules, the hero from Greek Mythology. I think that the word "hero" came from "Hercules".
बोलोनिया, इटलीः 1653 में बने पेपोली भवन में कला संग्रहालय है, लेकिन उसमें लगी चित्र प्रदर्शनी से अधिक सुन्दर हैं उसकी दीवारों तथा छतों पर बने भित्ति चित्र. आज की तस्वीरों में इस भवन के गौरव कक्ष की छत के कुछ हिस्से. इस कक्ष को "हरकुलिस की जीत वाला कक्ष" के नाम से जाना जाता है क्योंकि इसके भित्ति चित्रों में ग्रीक मिथकों के नायक हरकुलिस की कहानी है. मेरे विचार में "हीरो" शब्द हरकुलिस से ही बना है.
Bologna, Italia: Palazzo Pepoli costruito nel 1653 ospita un museo d'arte, ma gli affreschi sulle mura e sui soffitti del edificio sono più belli dei quadri del museo. Le immagini di oggi sono del soffitto della sala d'onore di questo palazzo. Questa sala è conosciuta come "la sala del trionfo di Ercole" perché gli affreschi raccontano la storia di Ercole dalla mitologia greca. Penso che la parola "eroe" viene da Ercole.
***