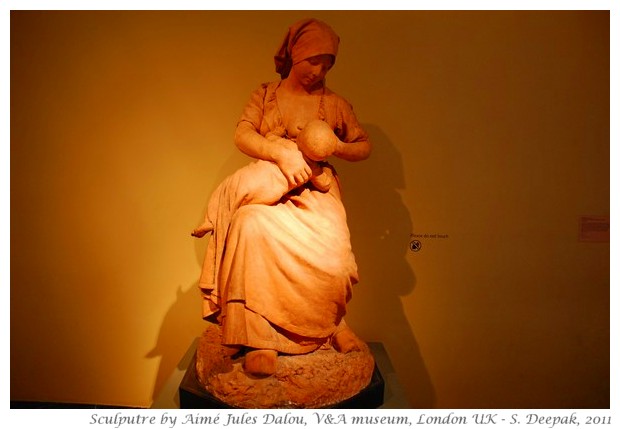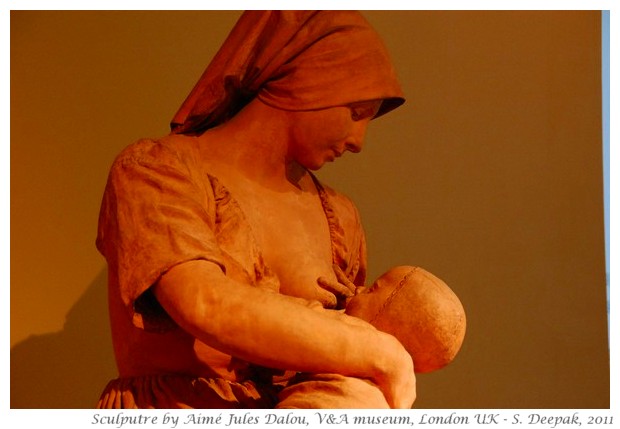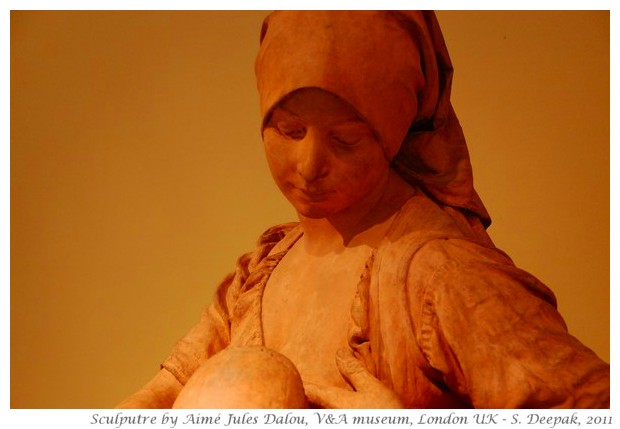 London, Britain: Aimé Jules Dalou is counted among the most important French sculptors of nineteenth century. Born in a protestant huguenot family with socialist ideas, Aimé is considered as a people's sculptor and he preferred making ordinary persons as subjects of his art. His work in today's pictures is called "Peasant woman nusrsing a baby" was made in 1873.
लंदन, ब्रिटेनः ऐमे यूल द'लो को उन्नीसवीं शताब्दी के सर्वश्रेष्ठ फ्राँसिसी शिल्पकारों में गिना जाता है. यग्नो ईसाई प्रोटेस्टेंट परिवार में जन्म लेने वाले साम्यवादी विचारों वाले ऐमे को जन शिल्पकार भी कहते हैं और सारा जीवन उन्होंने सामान्य व्यक्तियों को ही अपनी कला में दिखाना चाहा. आज की तस्वीरों में उनकी मूर्ति का नाम है "बच्चे को दूध पिलाती ग्रामीण युवती" जिसे उन्होंने 1873 में बनाया था.
Londrà, Regno Unito: Aimé Jules Dalou è considerato tra i più importanti scultori francesi del diciannovesimo secolo. Nato in una famiglia huguenot protestante con idee del socialismo, Aimé è chiamato lo scultore del popolo perché preferiva ritrarre persone ordinarie nella sua arte. La sua opera nelle immagini di oggi si chiama "Contadina che allatta il bambino" e fu creata nel 1873.
***