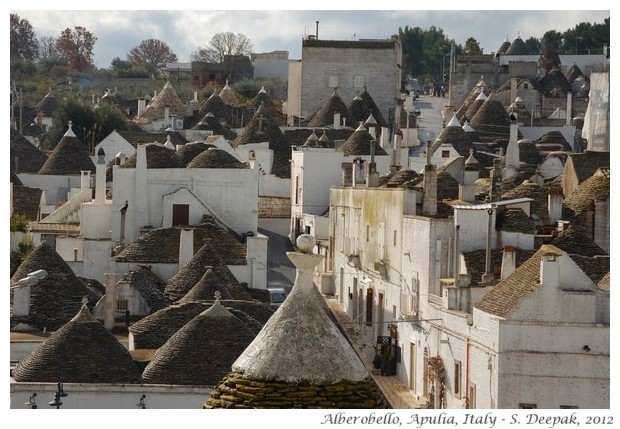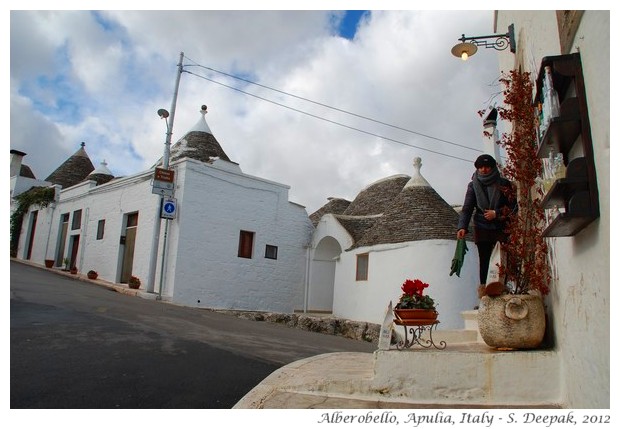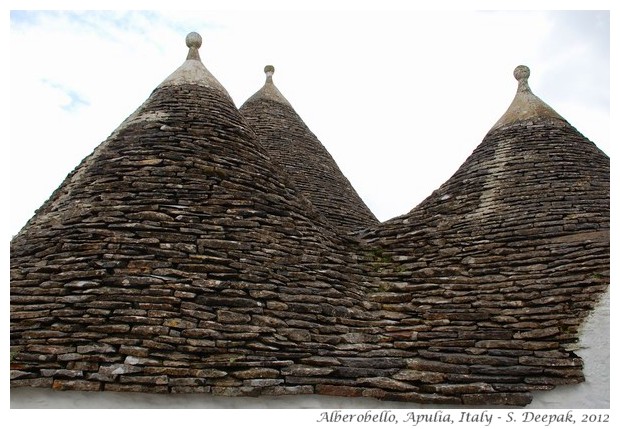 Alberobello, Italy: Perhaps you saw this place in the song
"Khuda jaane" from the film "Bachna ai haseeno"
? Tiny white houses with conical roofs of black stone, as if small men wearing black hats. These roofs are made out of tufa stone and making them is an art, because you need to put flat stones, one above the other, without using any cement or mortar.
अल्बेरोबेल्लो, इटलीः शायद आप ने इस जगह को
"बचना ऐ हसीनो" फ़िल्म के गाने, "खुदा जाने"
में देखा हो? छोटे सफ़ेद घर और उन पर काले पत्थर से बनी छतें, नीचे गोल और ऊपर नुकीली, मानो छोटे छोटे आदमी काले टोप पहने हों. यह छतें तूफ़ा पत्थर से बनती हैं और इन्हे बनाना भी एक कला है क्योंकि चपटे पत्थरों को बिना सीमेंट या माल्टा के, एक के ऊपर एक रख कर इन छतों को बनाते हैं.
Alberobello, Italia: Forse avete visto questo posto nella
canzone "Khuda jaane" del film di Bollywood "Bachna ai haseeno"
? Piccole case bianche con tetti di pietra nera fatti a cono, che sembrano piccoli uomini con i cappelli neri. Questi tetti sono fatti di tufo e costruirli è un'arte perché bisogna saper mettere una pietra sopra l'altra senza usare cemento o malta.
***