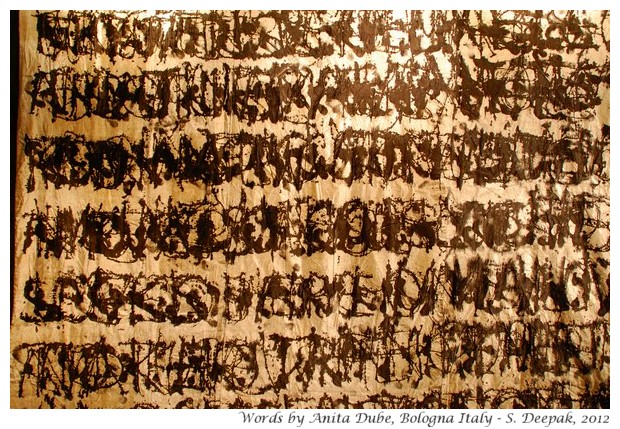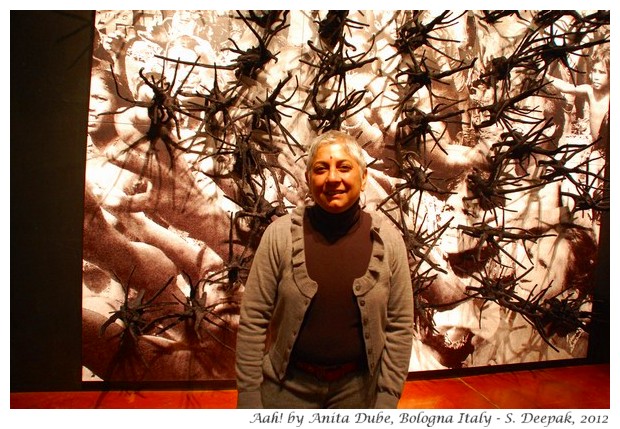 Bologna, Italy: Yesterday the annual art fair in the city started and there are lot of exhibitions of artists from different countries. Among them there is an Indian name as well, Anita Dube from Delhi, who is famous for her the new radical thinking on art and has participated in exhibitions in different countries. I went for the inauguration of her exhibition last night. Today's images have 3 examples of her works. The first has "woman" written in wax with burning flames representing the inner anguish of Indian woman. The second has layers of words above other words, to make an abstract mishmash that has to be experienced rather than read literally. Last image has Anita in front of her creation "Aah" where roots planted over an image of people cryinging out, make the word "Aah" and give a voice to that cry.
बोलोनिया, इटलीः कल शाम को शहर में वार्षिक कला महोत्सव का प्रारम्भ हुआ, शहर में पचासों देस विदेस से आये कलाकारों की प्रदर्शनियाँ लगी हैं. उनमें एक भारतीय नाम भी है, दिल्ली की सुश्री अनीता दुबे, जिनके नयी कला अनुभूति क्षेत्र में बहुत नाम है तथा जो बहुत से देशों में कला प्रदर्शनियों में भाग ले चुकी हैं. मैं उनकी कला प्रदर्शनी के उद्घाटन में गया था. आज उनकी कला के तीन उदाहरण प्रस्तुत हैं. पहली तस्वीर में मोम से बने शब्दों की वूमन (नारी) जिसकी जलती लौ में भीतर से जलती भारतीय नारी का रूप है. दूसरे चित्र में है "शब्द", एक के ऊपर दूसरे शब्दों में बनी घिचपिच, जिसकी अभिव्यक्ति को केवल भीतर से महसूस किया जा सकता है. तीसरी तस्वीर में हैं स्वयं अनीता दुबे, अपनी कृति "आह" के सामने, जिसमें पृष्ठभूमि के हाथ फ़ैलाये मानव चेहरों पर लगी जड़ों से बना "आह" शब्द उनकी पुकार को ध्वनि देता है.
Bologna, Italia: Ieri è iniziata l'arte fiera e vi sono mostre d'arte da tutte le parti della città. Tra questi vi è un nome indiano, è Anita Dube di Delhi, riconosciuta per il suo nuovo e radicale espressione dell'arte che ha già partecipato in mostre in diversi paesi. Le immagini di oggi hanno 3 esempi di suoi lavori. Il primo ha parole di cera con le fiamme che rappresentano il tormento interno delle donne indiane. Il secondo ha strati di parole coperti con altre parole affinché vi è un miscuglio che si deve sentire e non cercare di leggere. Nella terza immagine, c'è Anita davanti al suo quadro "Aah" (Grido), dove la parola Aah creata con le radici degli alberi sullo sfondo della foto di persone che gridano per fame, dà suono al loro grido.
***
La mostra dei lavori di Anita Dube resterà aperta fino al 16 marzo 2012 presso
Galleria Marabini
, Vicolo della Neve 5, Bologna - Anita's exhibition will be on till 16 March 2012 at
Galleria Marabini
, Vicolo della Neve 5, Bologna - अनीता दुबे की कला प्रदर्शनी, बोलोनिया की
माराबीनी कला विथी
, विकोलो देल्ला नेवे ५ पर १६ मार्च तक देखी जा सकती है.
***