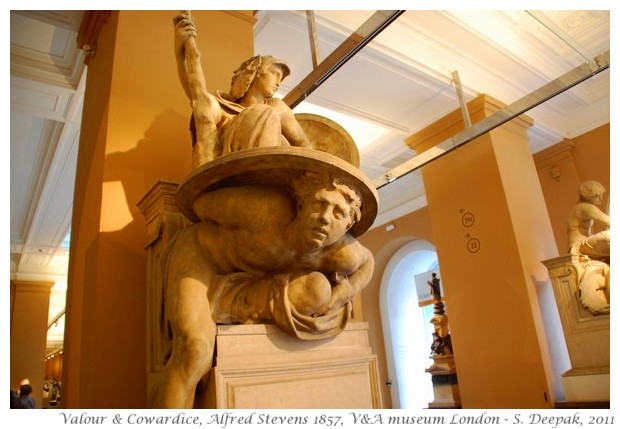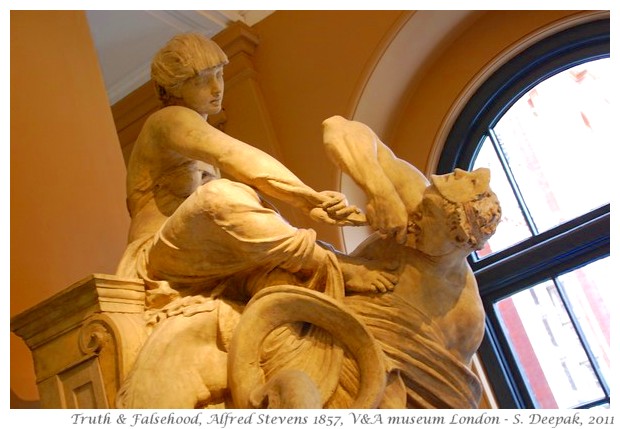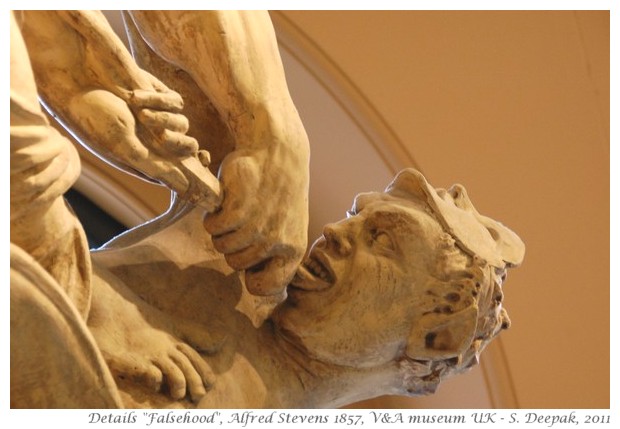 London, UK: In art, the tradition of giving human forms to personality characteristics is very old. Today's images have two examples of this tradition from V&A museum. The statues were made as plaster models by Alfred Stevens in 1857 and were used to create the stone statues that can be seen at St Paul cathedral. First statue shows "Valour & Cowardice" and second one shows "Truth and Falsehood". Third image has details of "Falsehood". Each figure has to show some specific traits of its personality. For example, "Falsehood" has forked tongue, a mask on its face and a tail.
लंदन, ब्रिटेनः मानव गुणों को मानव आकृति देने की कला की परम्परा बहुत पुरानी है. इसी परम्परा के दो उदाहरण आज लंदन के विक्टोरिया एवं एल्बर्ट संग्रहालय से. इन मूर्तियों को 1857 में एल्फ्रेड स्टीवन ने प्लास्टर से मोडल की तरह बनाया फ़िर इनके आधार पर ऐसी मूर्तियाँ पत्थर से तराशी गयी जो सेंट पाल गिरजाघर में देखी जा सकती हैं. पहली मूर्ति में बने हैं "साहस तथा कायरता" वं दूसरी मूर्ति में बने हैं "सत्य और झूठ". तीसरी तस्वीर में "झूठ" का चेहरा है. मूर्तियों में हर व्यक्तित्व में उसके गुण दिखने चाहिये, जैसे कि शिल्पकार ने "झूठ" की दुहरी जीभ बनायी है, उसके चेहरे पर मुखौटा है और उसकी पूँछ है.
Londra, Regno Unito: In arte, la tradizione di dare una forma umana ai tratti delle personalità è molto vecchia. Le immagini di oggi hanno due esempi di questa tradizione dal museo V&A. Le statue erano state fatte nel 1857 da Alfred Stevens come modelli in gesso per poi essere replicate per la cattedrale San Paolo di Londra. La prima statua ha "Coraggio e Paura" e la seconda statua ha "Verità e Falsità". La terza immagine presenta un dettaglio della "Falsità". Ogni statua dovrebbe avere certi tratti specifici che la caratterizzano. Per esempio, "Falsità" ha la lingua biforcuta, una maschera sulla faccia e la coda.
***