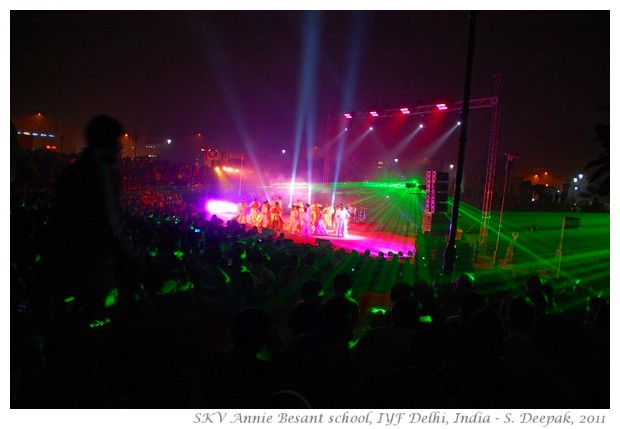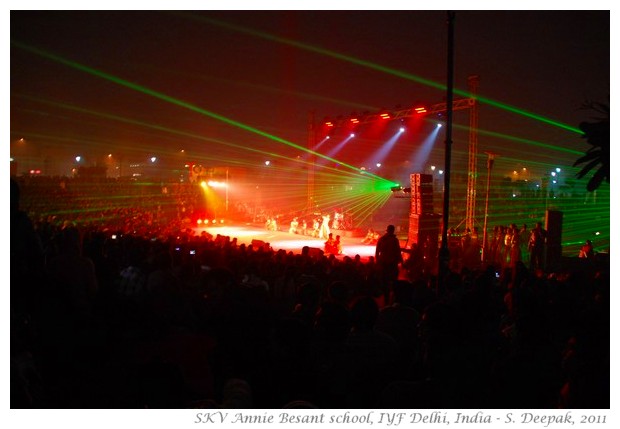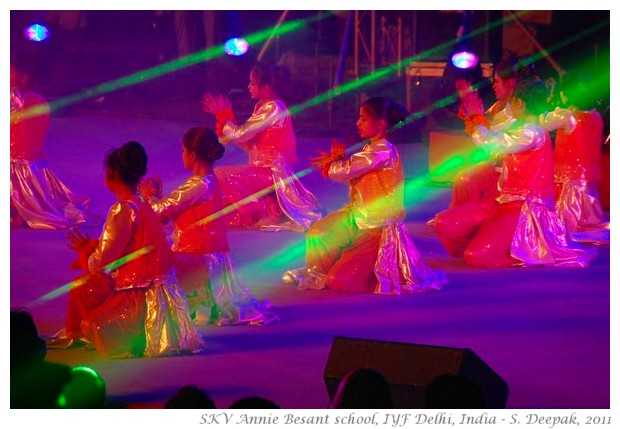 Delhi, India: At the International Youth Festival, the students of SKV Annie Besant school of Mayur Vihar Delhi presented a dance drama. Its message was that if instead of selective abortions and discrimination, girls can have opportunities for studies and equality, they can contribute to progress of their families, societies and nation. The green rays of a laser show during this dance drama made it even more colourful.
दिल्ली, भारतः अन्तरराष्ट्रीय युवा फेस्टिवल में दिल्ली के मयूर विहार से एस. के. वी. एन्नी बीसेंट विद्यालय की छात्राओं ने एक नृत्य नाटिका प्रस्तुत की जिसका संदेश था कि अगर भ्रूण हत्या तथा भेद भाव के बदले लड़कियों को पढ़ने और बराबरी के मौके मिले तो वे अपने परिवार, समाज और देश के विकास में हर तरह से योगदान दे सकती हैं. इस नृत्य नाटिका के दौरान, लेज़र शो की हरित किरणों ने बहुत सुन्दर समा बनाया था.
Delhi, India: Al festival internazionale dei giovani, gli studenti della scuola SKV Annie Besant di Mayur Vihar (Delhi) hanno presentato una danza-racconto. Il loro messaggio era che se invece di aborti selettivi e discriminazioni, le ragazze possono avere accesso allo studio e all'uguaglianza, possono contribuire allo sviluppo delle famiglie, della società e della nazione. I raggi verdi di laser durante questa danza avevano creato un effetto molto colorato.
***
More images from this dance drama are available
on Kalpana image archive
s - इस नत्य की अन्य तस्वीरें
कल्पना के फोटो आरकाइव
में देख सकते हैं - Altre immagini da questa danza-racconto sono disponibili negli
archivi fotografici di Kalpana
.
***