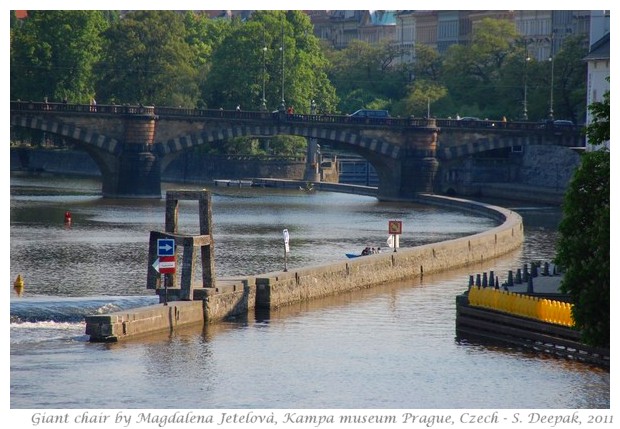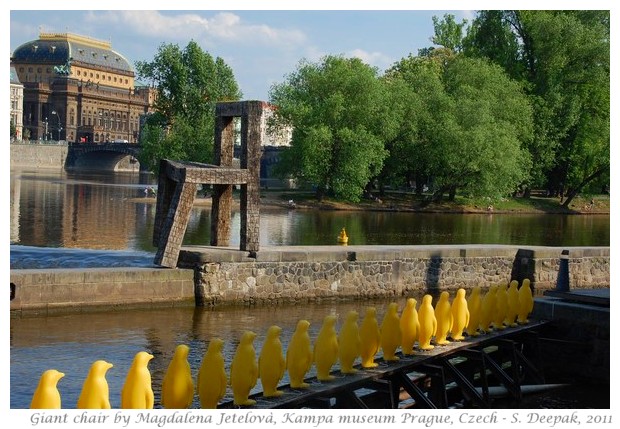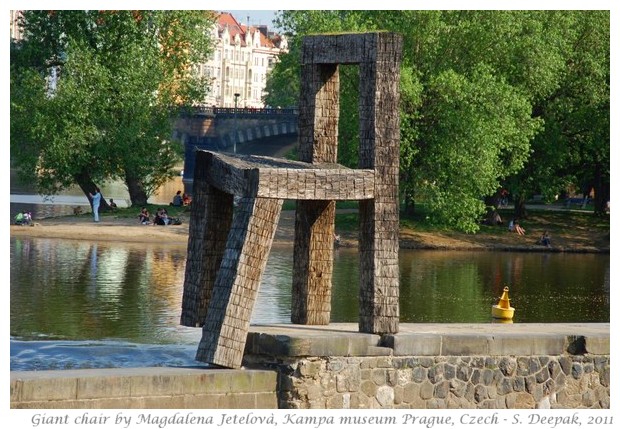 Prague, Czech Republic: If the aim of art is also to give new sensations, then this giant chair of Kampa museum succeeds in its aim. Seeing this chair in the middle of fast running waters of Vltava river, I was wondering how to get up on it and even if I manage to go up, I would be afraid of falling down with a gust of strong wind. Then I thought of giants' land in the book "Gulliver's travels", where it may be the chair of a child!
प्राहा, चेक गणतंत्रः कला का ध्येय अगर नयी अनुभूति देना है तो केम्पा कला संग्रहालय की यह भीमकाय कुर्सी इस ध्येय में सफल होती है. व्लटावा नदी की तेज़ धार के बीच में खड़ी इस कु्रसी को देख कर अचरज भी हुआ कि कैसे इस पर चढ़ेगें और कुछ डर भी लगा कि सीढ़ी लगा कर किसी तरह इस पर चढ़ भी गये तो तेज़ हवा से नीचे न गिर जायें. बचपन में पढ़ी गुलिवर की कहानी भी याद आयी, शायद उस कहानी की भीमकाय लोगों की दुनिया में यह किसी बच्चे की कुर्सी हो!
Praga, Repubblica Ceca: Se l'obiettivo dell'arte è di donare nuove sensazioni, questa sedia gigante del museo Kampa sicuramente raggiunge il suo obiettivo. Guardando questa sedia in mezzo alla corrente del fiume Vltava, mi chiedevo come si poteva salire sopra e se una volta saliti sopra, forse si rischiava di cadere giù quando il vento era forte. Poi ho pensato alla terra dei giganti nel libro "I viaggi di Gulliver", dove questa poteva essere la sedia di un bambino!
***