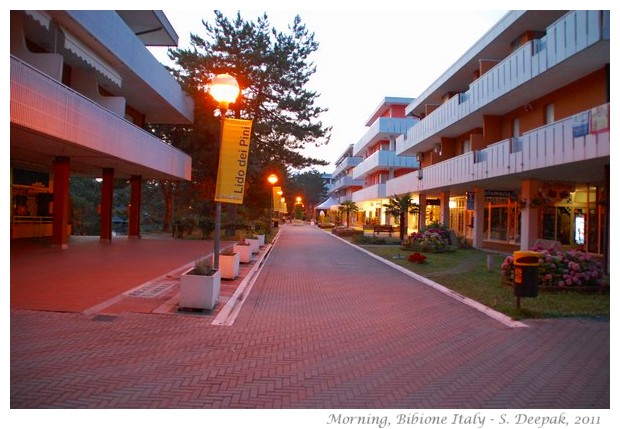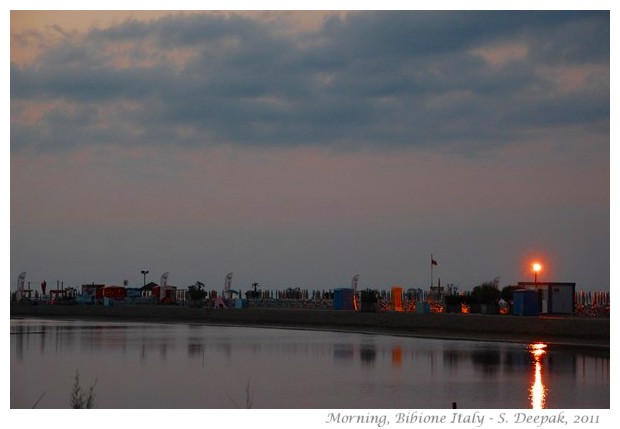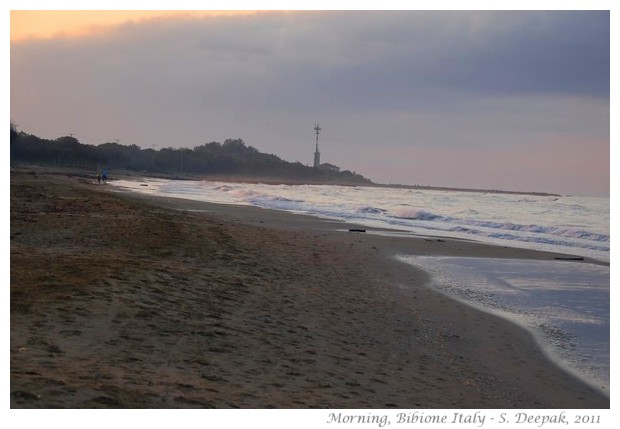 Bibione, Italy: In India many persons believe in waking up very early in the morning to go out for a walk. If you go to a park, in mountain or along the sea, you will see lot of other persons out for a walk. In Europe, not many persons believe in waking up so early. Few weeks ago, we were at seaside for a holiday. One morning I went out for a walk at 5 AM and I hardly saw anyone else.
बिबियोने, इटलीः भारत में बहुत से लोग सुबह अँधेरे मुँह जल्दी उठने में विश्वास रखते हैं और सुबह सैर को निकलो तो बागों, पहाड़ों, सागरतट पर अन्य बहुत से सैर करने वाले दिखते हैं. लेकिन यूरोप में सुबह इतनी जल्दी उठ कर सैर करने में कम लोग विश्वास करते हैं. कुछ दिन पहले सागरतट पर छुट्टियों के लिए गये थे. एक दिन सुबह पाँच बजे उठ कर सैर को निकला तो सारे रास्ते में कुछ गिने चुने लोग ही दिखे.
Bibione, Italia: In India molte persone si alzano prestissimo alla mattina per andare a camminare. Lungo i parchi, le montagne e il mare, troverete tante persone che passeggiano presto alla mattina. In Europa meno persone vogliono alzarsi così presto. Qualche settimana fa eravamo al mare per alcuni giorni di ferie. Una mattina sono andato a camminare lungo la spiaggia alle 5 di mattina e ho visto pochissime persone in giro.
***