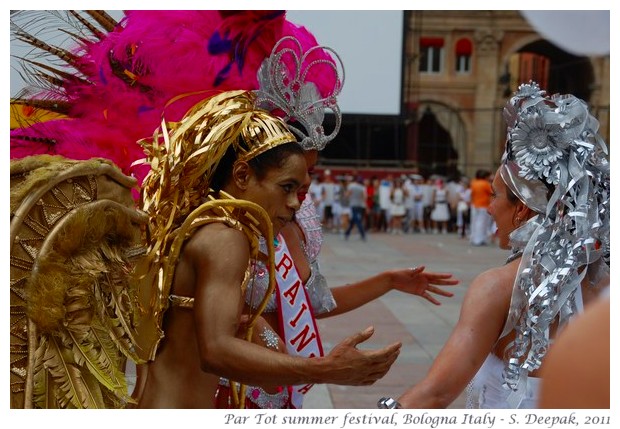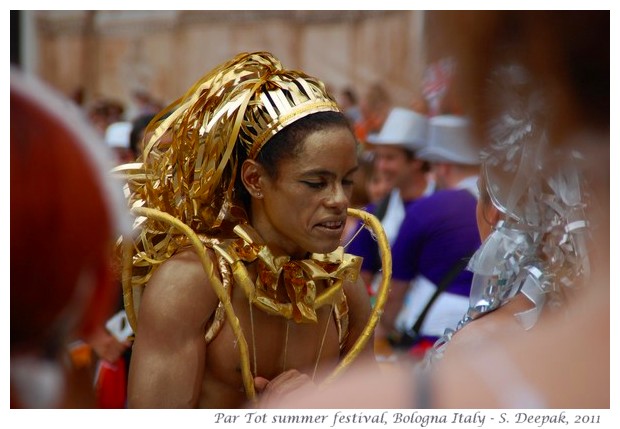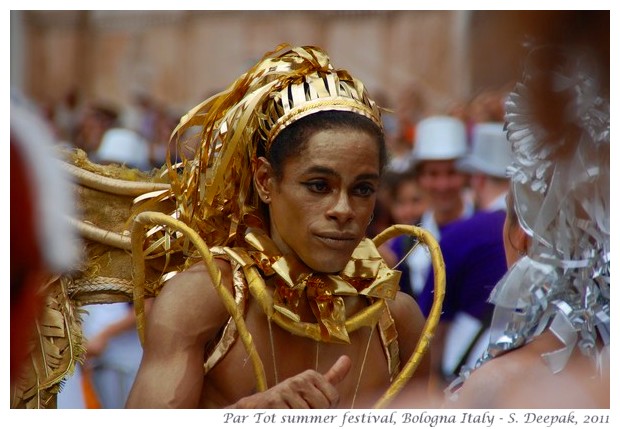 Bologna, Italy: The Brazilian dancer in the golden colour in the summer festival, reminded me of the "golden deer" episode in Ramayana. This episode teaches about not running after money and superficial glitter, crossing the moral boundries with danger of selling the soul to demon. Is this lesson pertinent today?
बोलोनिया, इटलीः ग्रीष्म ऋतु समारोह में सुनहरे रंग में सजे ब्राज़ीली नर्तक को देख कर मुझे रामायण का स्वर्ण मृग का प्रसंग याद आ गया. इस प्रसंग का अभिप्राय मेरे विचार में पैसे और चमक दमक के पीछे न भागने का संदेश देना है, और नैतिकता की लक्ष्मण रेखा को पार करने पर दानव प्रवृति को अपनी आत्मा सौंपने के खतरे से आगाह करना है. लेकिन रामायण का यह पाठ आज कितने लोगों को सही लगता है?
Bologna, Italia: Il danzatore brasiliano nei colori dorati nella parata Par Tot, mi ha fatto pensare all'episodio del cervo d'oro nel poema indiano Ramayana. Questo episodio insegna di non inseguire soldi e luccichio superficiale, e il pericolo di superare le frontiere della moralità. Ma queste lezione è pertinente per il mondo di oggi?
***