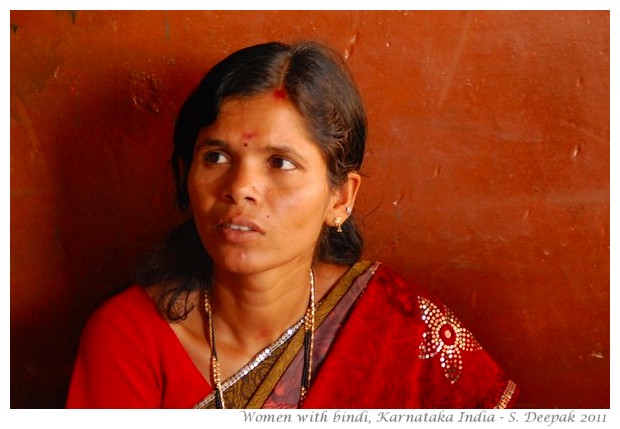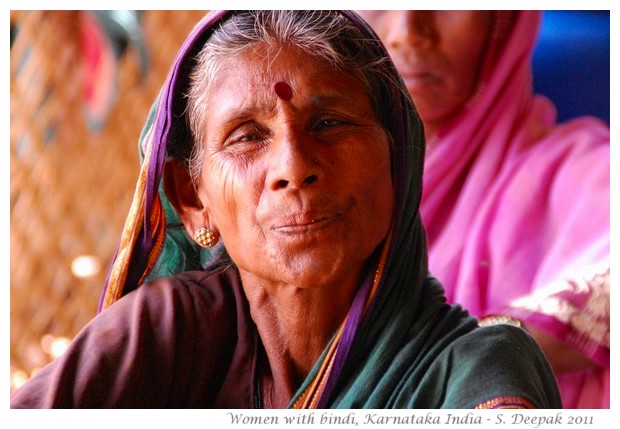 Karnataka, India: Bindi or Bindiya, the red dot on Indian women's forehead, big or small, made with vermilion powder or bought ready made, is for beauty, a sign of marriage and also a symbol of the third eye of Shiva.
कर्णाटक भारतः नारी के माथे की बिन्दी, छोटी हो या बड़ी, कुमकुम की या चिपकायी हुई, में सन्दरता की भावना है, विवाह का प्रतीक भी और शिव की तीसरी आँख का चिन्ह भी जो अन्तरमन को देख सकती है. बिन्दी पर कितने गाने हैं पर मेरा सबसे प्रिय है मन्नाडे का गाया "बिँदिया जाने कहाँ खोयी". और आप को बिँदिया से जुड़ा कोई गीत पसंद है?
Karnataka, India: Bindi o Bindiya, il puntino rosso sulla fronte delle donne indiane, piccolo o grande, fatto con polvere di vermiglione o comprato già fatto, è per bellezza, un segno del matrimonio e anche il simbolo del terzo occhio di Shiva.
***