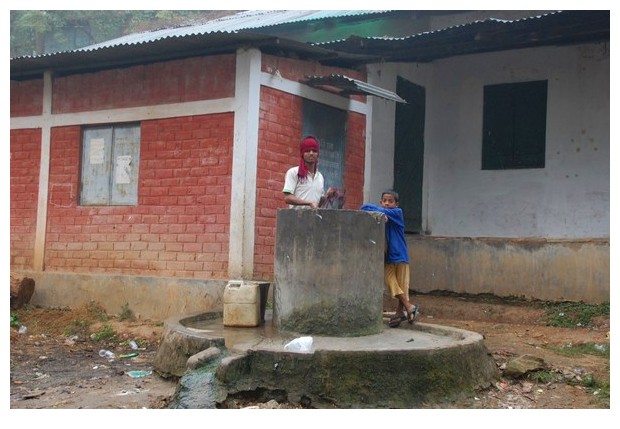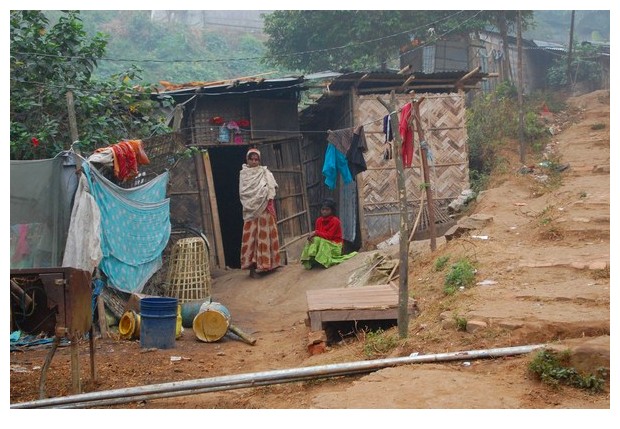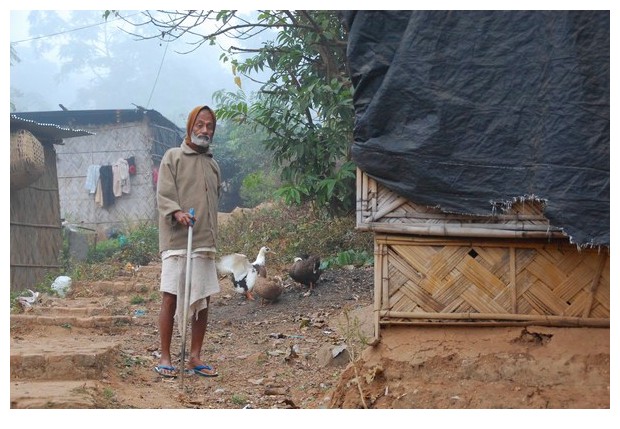 Guwahati, Assam, India: I thought the capital of Assam was called "Gauhati", meaning "cow market" but when I visited it recently, people told me that its correct name was "Guwahati", meaning "betel nut market". Considering the number of people there who chew betel, the name is understandable. Like other cities in India, even Guwahati shows signs of change and development with shops selling international brands, multiplex cinemas, malls and roads choked with traffic. However, if go to back-streets, you can still see the old Guwahati. Today's pictures are of early morning in a poor area on a hill near Anand Nagar, on the way to TV Tower.
गुवाहाटी, आसामः मेरा विचार था कि आसाम की राजधानी का नाम था "गौहाटी", यानि "गाय का बाज़ार", पर जब वहाँ जाने का मौका मिला तो लोगों ने बताया कि उनके शहर का सही नाम "गुवाहाटी" है, यानि "सुपारी का बाज़ार". इतने लोग इतना पान खाते हैं कि यह नाम भी समझ में आता है. आधुनिकता और विकास यानि अन्तर्राष्ट्रीय ब्राँड के कपड़े, जूते बेचने वाली दुकाने, मल्टीप्लेक्स सिनेमा, बहुमँजली इमारतें और गाड़ियों से खचाखच्च भरी सड़कें, गुवाहाटी किसी से कम नहीं. लेकिन बड़ी सड़कों के पीछे, छोटी गलियों में और विषेशकर, गरीब जगहों पर पुराना गुवाहाटी अब भी देख सकते हैं. आज की तस्वीरें उसी गरीब गुवाहाटी की एक ठण्डी सुबह से हैं, आनन्द नगर के पास, टीवी टावर हिल की ओर जाती एक पहाड़ी से.
Guwahati, Assam, India: Pensavo che la capitale di Assam si chiamava "Gauhati", ciò è, "Mercato delle mucche". Invece quando ho visitato la città recentemente, mi hanno informato che la città si chiama, "Guwahati", ciò è, "mercato della noce moscata". Considerando il numero delle persone che mangiano il betel insieme al noce moscata in questa zona, il nome sembra appropriato. Come le altre città indiane, anche la città di Guwahati si è sviluppata con negozi che vendono le marche internazionali, multisale per il cinema, centri commerciali e strade bloccate dal traffico. Tuttavia, nelle stradine nascoste, si può ancora vedere la vita della vecchia città. Le immagini di oggi sono di una mattina fredda in una zona povera vicino a Anand Nagar, sulla strada per andare alla collina di TV Tower.
***