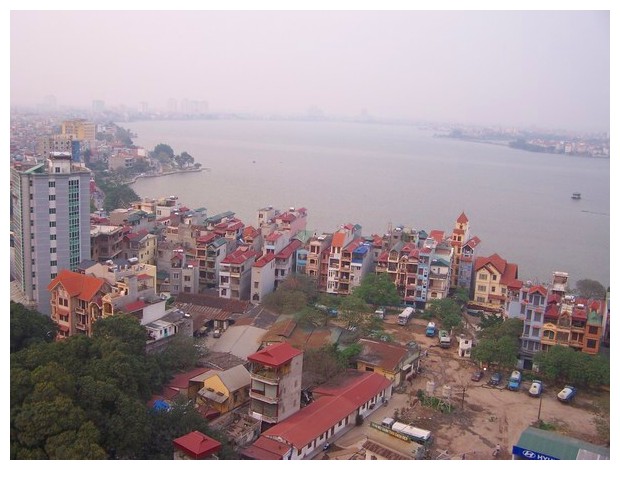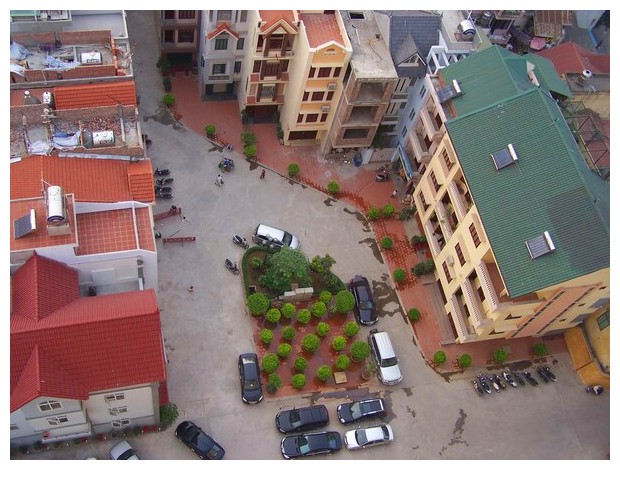 Hanoi, Vietnam: After 12-13 years, when I went back to Hanoi, I had the same feeling as when I go back to India. The low single storey houses were replaced by 3-5 storey narrow towers, with no space for car parking. Getting stuck in the narrow and chaotic lanes of old Hanoi means you never know when you reach any where. If you have money, you can live in skyscrapper inside a closed community with guards, and tell yourself you are in USA. The area near the lake that had fields, has a never ending new city. The only difference from Delhi was that electricty never tripped and people didn't have electric inverters in their homes.
हानोई, वियतनामः बारह तेरह साल बाद वियतनाम वापस गया तो कुछ कुछ वैसा ही लगा जैसा भारत वापस आने पर लगता है. जहाँ एक मँजिले घर थे वहाँ हर तरफ़ तीन चार पांच मज़िल के संकरे किले बन गये, जहाँ कारों को पार्क करने की जगह नहीं. पुराने शहर की संकरी सड़कों पर यातायात में फँसे, तो कब निकले यह मालूम नहीं होता. जहाँ झील के किनारे खेत थे, वहाँ अंतहीन नया शहर बसा है. पैसा है तो चारदीवारी में गार्ड से रक्षित गंगनचुम्बी भवन में घर लीजिये, लगेगा अमरीका में हैं. हाँ दिल्ली से एक अंतर दिखा, जितने दिन भी वहाँ था, कभी भी बत्ती नहीं गयी और न ही लोगों के घरों में इनवर्टर देखे.
Hanoi, Vietnam: Dopo 12 o 13 anni, quando sono tornato a Hanoi, ho avuto la sensazione che ho quando torno in India. Le basse case sono state sostituite da strette torri di 3-5 piani, senza spazi per parcheggiare le macchine. Restare bloccati negli ingorghi del traffico è normale nelle stradine della vecchia città. Vicino al lago, dove vi erano i campi dei contadini, è sorta una nuova città che sembra non finisce più. Se avete i soldi, potete comprarvi una casa in un grattacielo chiuso dentro un recinto con la sua guardia, e fare finta di essere a New York. Ma ho trovato una differenza tra Delhi e Hanoi, a Hanoi il corrente non salta tutti i giorni e le persone non hanno i gruppi elettrogeni a casa.