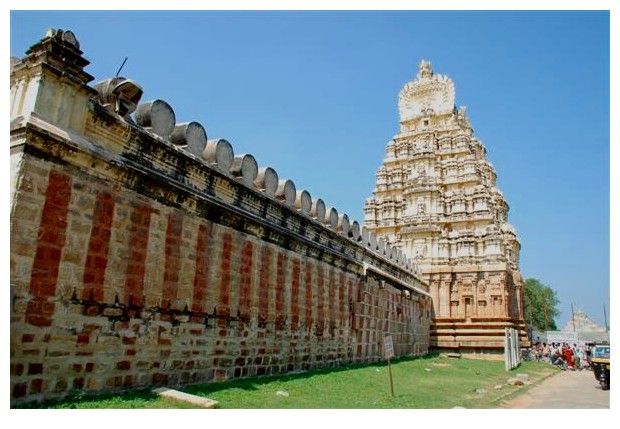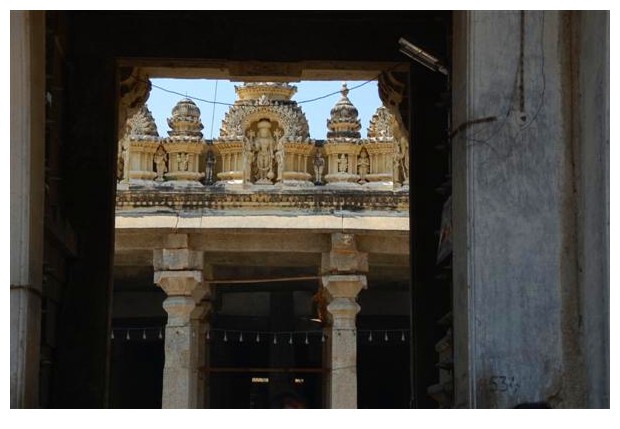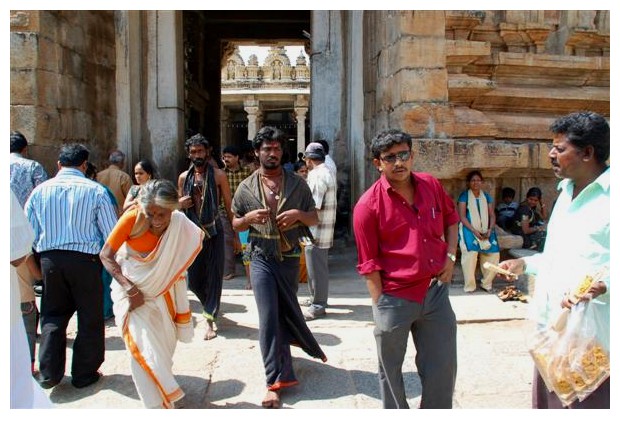 Srirangapatnam, India: The ancient city of Srirangapatna is situated on an island in Kaveri river. While going around southern part of Karnataka, I felt that they preferred strong colours in everything - in their homes, in temples, in statues, in their clothes. So I was surprised to see the almost colourless temple in Srirangapatnam, dedicated to Lord Rangnath (Lord of colours).
This temple is a stop over for pilgrims going to Sabrimala, and these men wearing black clothes can be easily identified.
श्रीरंगापट्नम, भारतः श्रीरंगापट्नम शहर कावेरी नदी के एक द्वीप पर बसा है. दक्षिण कर्नाटक में घूमा तो मुझे लगा कि वहाँ घरों, मंदिरों, मूर्तियों, लोगों के कपड़ों, सबके रंग बहुत तीखे होते हैं, इसलिए जब श्रीरंगापट्नम के प्रसिद्ध रंगनाथ स्वामी मंदिर को देखा तो थोड़ा अचरज हुआ कि कावेरी नदी के किनारे बने श्री रंगनाथ के नाम पर बने मंदिर में अन्य मंदिरों जैसे तेज रंग नहीं, बल्कि लगभग रंग विहीन है.
यहाँ शबरीमाला तीर्थयात्रा जाने वाली बसें रास्ते में रुकती हैं, जिनमें यात्रा करने वाले काले वस्त्र पहने हुए पुरुष आसानी से पहचाने जाते हैं.
Srirangapatnam, India: L'antica città di Srirangapatnam è situata su un'isola del fiume Kaveri. Mentre giravo il sud dello stato di Karnataka, pensavo che le case, i templi, le statue, i vestiti delle persone, sono tutte con i colori molto forti, per cui mi ha un po' sorpreso il tempio di Ranganath, quasi senza colori. Questo tempio è dedicato al dio dei colori.
Questo tempio è anche una fermata essenziale per i pellegrini che vanno a Sabrimala, e gli uomini sono facilmente identificabili per i loro vestiti neri.