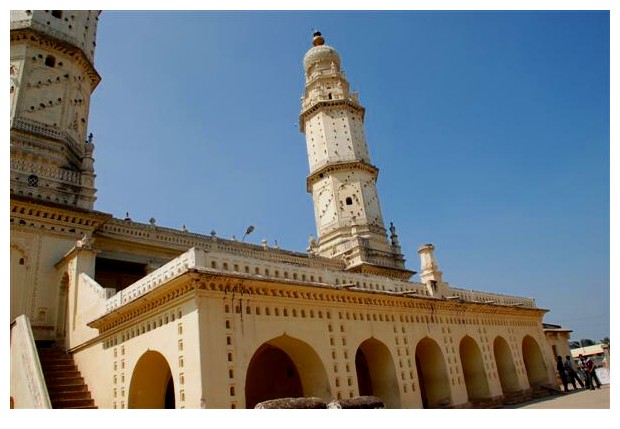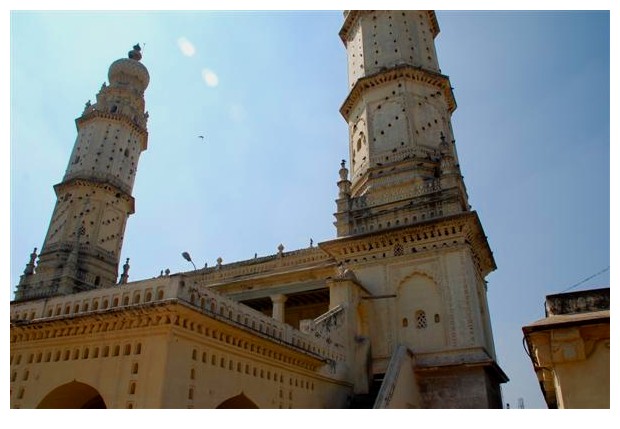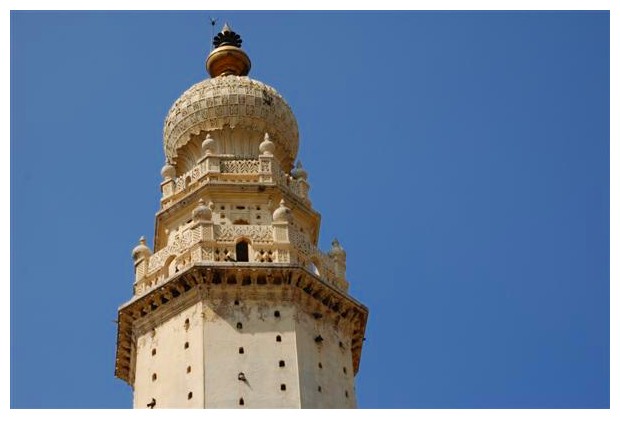 Srirangapatnam, India: In 1782, Tipu Sultan became the ruler of Mysore. British tried many times, but couldn't defeat him and he was called "Tiger of Mysore". In 1799, British tried again, supported by armies of Nizam of Hyderbad and King of Trevancore. Tipu had the support of French army, but he lost and died. Imagine, if Tipu had won that battle, India could have been part of French empire rather than the British empire and history would have been different. William Dalrymple has written about this war in his book "White Mughal". Today's picture show Jama Masjid mosque built by Tipu in his capital, Srirangapatnam.
श्रीरंगापट्नम, भारतः १७८२ में मैसूर राज्य का शासन टीपू सुल्तान के हाथ में आया. अँग्रेज़ों ने कई बार कोशिश की, पर टीपू ने उनकी कोशिशों को नाकाम कर दिया जिसके लिए उन्हें "मैसूर का चीता" कहा जाता था. १७९९ में अँग्रेज़ी फौज ने फ़िर हमला किया, हैदराबाद के निज़ाम और ट्रवनकोर के राजा से मिल कर, दूसरी ओर टीपू ने फ्राँस की सेना का सहारा लिया था. टीपू शहीद हुए और अंग्रेज़ो का शासन पूरे दक्षिण भारत में फ़ैल गया. सोचिये कि अगर टीपू न हारते तो शायद भारत, अँग्रेज़ी साम्राज्य के बदले फ्राँसिसी साम्राज्य का हिस्सा बन जाता. इतिहास कुछ और ही होता. विलियम डारलिम्पल ने अपनी किताब "सफ़ेद मुगल" में इसका बढ़िया विवरण दिया है. आज की तस्वीरों में मैसूर राज्य की राजधानी श्रीरंगापट्नम में टीपू द्वारा बनवायी जामा मस्ज़िद.
Srirangapatnam, India: Nel 1782, Tipu Sultan diventò il re di Mysore. Gli inglesi provarano molte volte ma senza successo, e Tipu diventò famoso come "La tigra di Mysore". Nel 1799, le forze inglesi provarano un'altra volta, questa volte appoggiati dalle forze del Nizam di Hyderabad e del re di Trevancore. Tipo aveva il sostegno dei francesi, ma fu sconfitto e morì. Se Tipu vinceva questa guerra, forse India sarebbe diventata una colonia francese invece di diventare la colonia inglese. William Dalrymple ne ha scritto nel suo libro "White Mughal". Le foto di oggi presentano Jama Masjid, la moschea costruita da Tipu nella capitale del suo regno, Srirangapatnam.