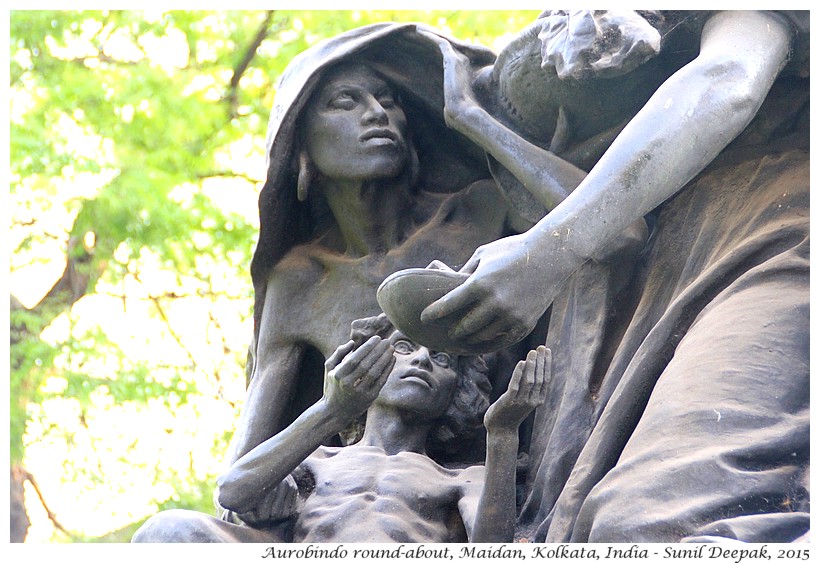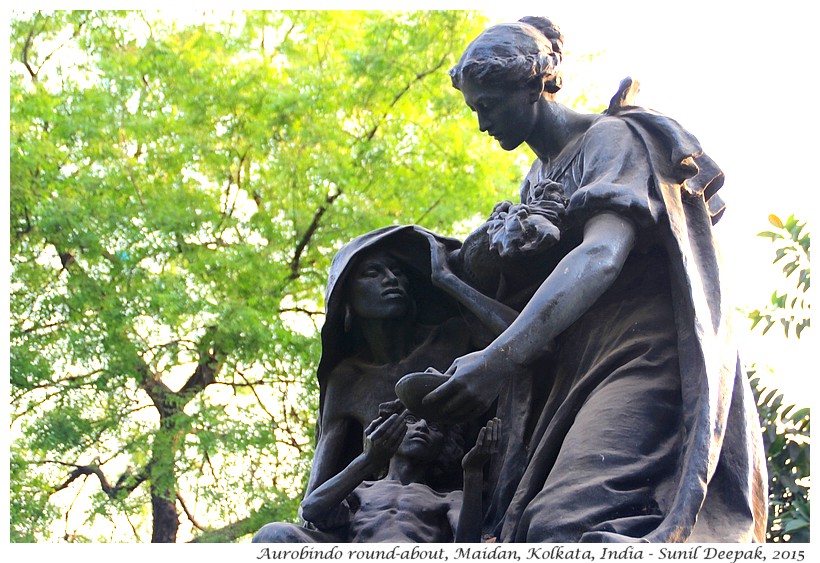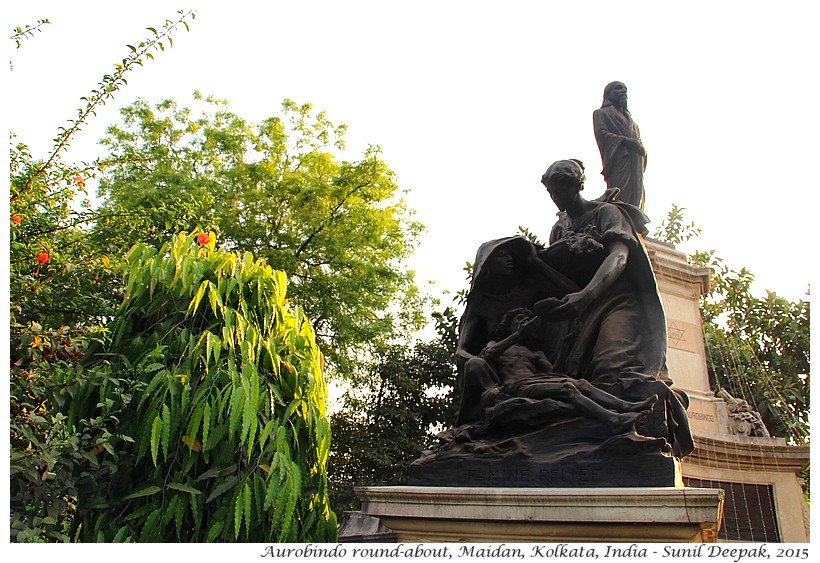 Kolkata, India: During the second world war, in 1943 there was another holocaust in north-eastern India when about 3 million persons died due to hunger. This episode has been almost forgotten and few persons in India remember it. Near the famous Victoria Memorial of Kolkata, near the statue of Sri Aurobindo, when I saw the statue of a poor hungry child, I thought about it. In the statue, a woman representing the British empire is shown giving food to the boy. Here in the place of Sr Aurobindo, once there was the statue of Lord Curzon. I thought that it was an irony of the history that the British empire responsible for those millions of deaths is shown as the helper of poor.
कोलकाता, भारतः दूसरे महायुद्ध के दौरान 1943 में उत्तर पूर्वी भारत में बड़ा नरसंहार हुआ, भुखमरी से करीब 30 लाख लोगों की मृत्यू हुई, उनके बारे में इतिहास भूल गया और आज भारत में थोड़े लोगों को इसकी याद है. कोलकाता के प्रसिद्ध विक्टोरिया मेमोरियल के सामने जहाँ श्री ओरोबिन्दो की मूर्ति लगी है, उसके पास एक दरिद्र भूखे बच्चे की मूर्ति को देख कर यह बात याद आ गयी. भूखे बच्चे की इस मूर्ति में उसे खाना देनी वाली एक अंग्रेज़ युवती है जो ब्रिटिश राज्य का प्रतीक है. यहाँ कभी ओरोबिन्दो की जगह लार्ड कर्ज़न की मूर्ति होती थी. मुझे लगा कि यही इतिहास का व्यंग है कि भुखमरी और लाखों लोगों के मारने का जिम्मेदार ब्रिटिश शासन, मूर्ति में गरीबों की सहायता करने वाला दिखाया गया है.
Calcutta, India: Durante la seconda guerra mondiale, nel 1943 vi era un olocausto anche nell'India nord-orientale quando circa 3 milioni di persone morirono per fame. Questo episodio è quasi dimenticato e pochi in India lo ricordano. Vicina alla famosa Victoria Memorial di Calcutta, vicino la statua di Sri Aurobindo, quando ho visto la statua del bambino affamato, l'ho pensato. Nella statua una donna che rappresenta l'impero inglese dà da mangiare al bambino. Qui al posto di Sri Aurobindo, una volta c'era la statua di Lord Curzon. Pensavo che era un'ironia della storia che l'impero inglese responsabile di quelli 3 milioni di morti è presentato come quelli che aiutavano i poveri.
***