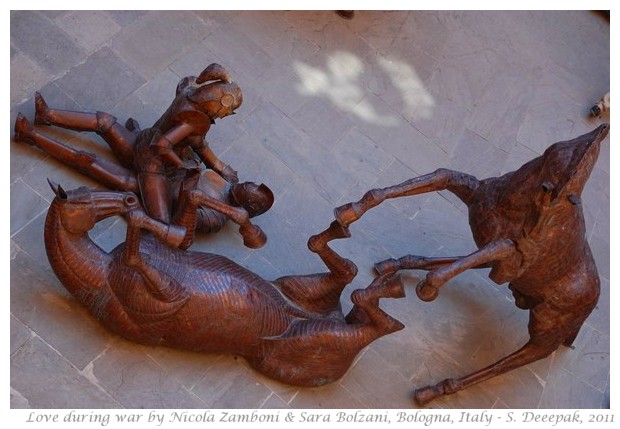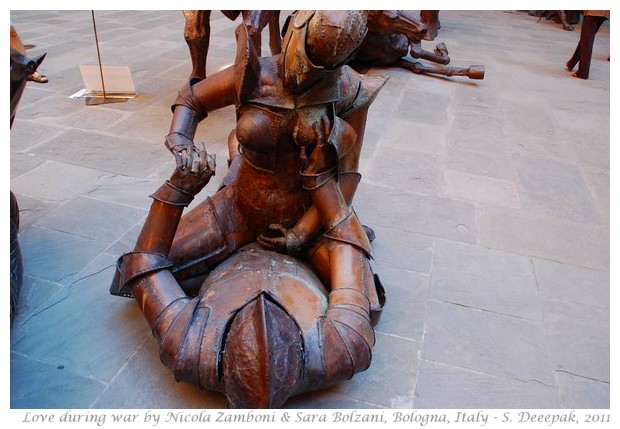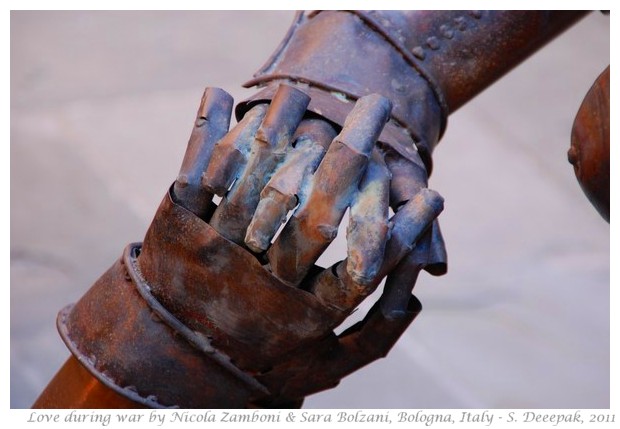 Bologna, Italy: When I saw the sculpture of warriors making love in exhibition of Nicola Zamboni and Sara Bolzani, I felt a little strange because to me the image of war is linked more to rape than to feelings of love. The lying down man and the woman sitting on him in this sculpture, express the feelings of body hunger, and their interlaced fingers express tenderness of love.
बोलोनिया, इटलीः निकोला ज़म्बोनी एवँ सारा बोल्ज़ानी की कला प्रदर्शनी में प्रेम करते हुए दो योद्धाओं की कलाकृति देख कर कुछ अज़ीब सा लगा था क्योंकि युद्ध से प्रेम की नहीं बलात्कार की छवियाँ जुड़ी होती हैं. इस कलाकृति में नीचे लेटे पुरुष और उस पर बैठी स्त्री में शारीरिक भूख का उन्माद है और उनकी जुड़ी उँगलियों में प्रेम की मधुरता भी है.
Bologna, Italia: Nella mostra di Nicola Zamboni e Sara Bolzani, quando avevo visto la scultura dei due guerrieri che fanno l'amore avevo sentito una strana sensazione, perché per me l'immagine della guerra è legata più alla violenza sessuale che all'amore. L'uomo disteso per terra e la donna seduta sopra, esprimono il fame del corpo mentre le loro dita intrecciate esprimono la tenerezza dell'amore.
***