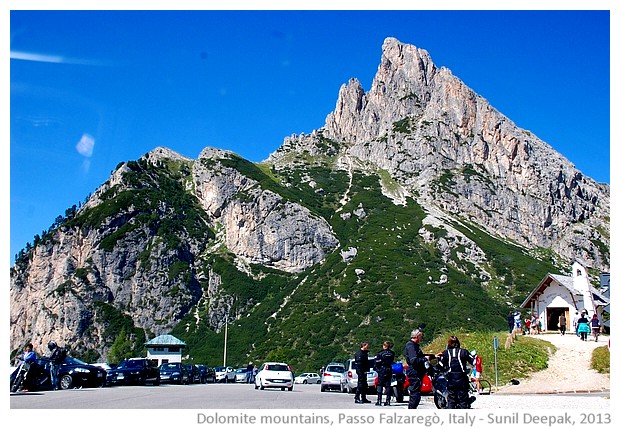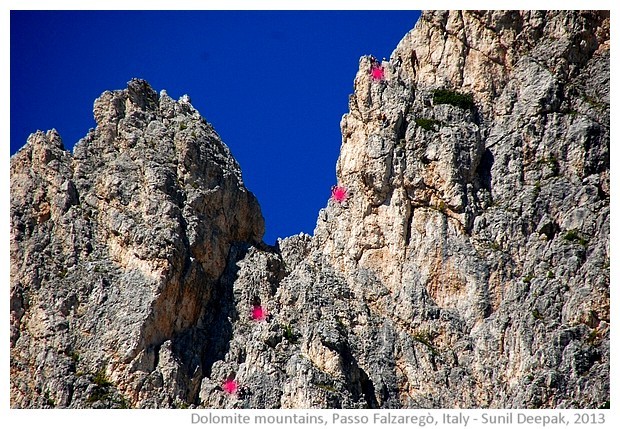 Passo di Falzarego, Italy: While travelling from Cortina to Alleghe, we stopped at Falzarego pass at about 2000 meters (6561 feet), where you can admire the wonderful dolomite mountains around the pass. Looking with binoculars I could see a group of people doing rock climbing (in the third image there were about 20 persons - I have marked the places of the people with red colour).
पास्सो दी फालजारे-गो, इटलीः कोर्तीना से आलेगे जाते हुए हम लोग दो हज़ार मीटर की ऊँचाई (6561 फीट) पर फालज़ारे-गो दर्रे पर रुके, जहाँ पर डोलोमाइट चट्टानों के पहाड़ों की भव्य चोटियाँ दिखती हैं. दूरबीन से देखा तो दिखा कि एक ओर पर्वत चोटी पर लोग चढ़ाई कर रहे थे. (तीसरी तस्वीर में करीब बीस लोग दिख रहे थे, जिन जगहों पर थे, वहाँ लाल निशान लगाये हैं)
Passo di Falzàrego, Italia: Durante il nostro viaggio da Cortina a Alleghe, ci siamo fermati a Passo di Falzàrego a circa 2000 metri (6561 piedi) da dove si possono ammirare le magnifiche montagne dolomiti. Guardando con il binocolo ho visto un gruppo di persone che scalavano la montagna (nella terza immagine, vi erano circa 20 scalatori - ho segnato con il rosso i punti dove si vedono le persone).
***