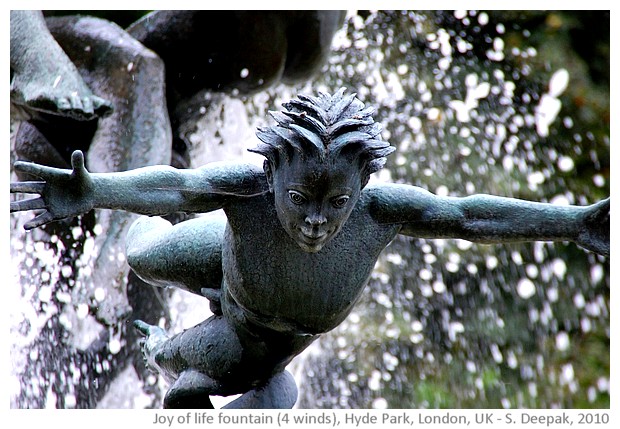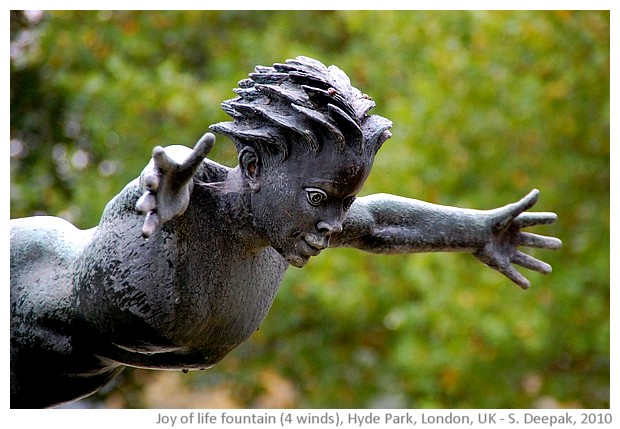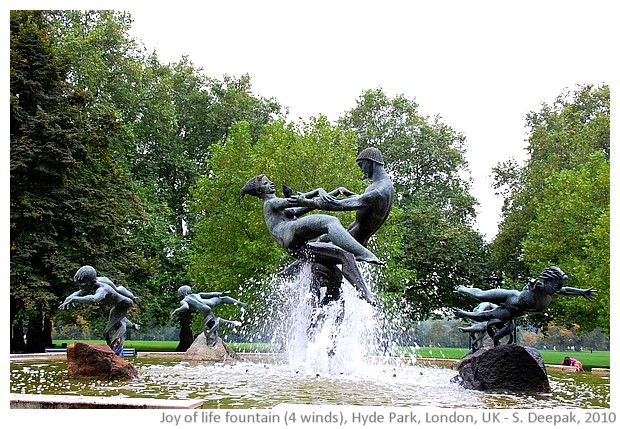 London, UK: Hyde park is huge and it has many fountains and monuments. Today's images have the "Joy of life" fountain from the north-eastern corner of Hyde park, built by sculptor Thomas B. Huxley-Jones. It has a couple dancing in the centre and four children floating in four corners. It is also known as "four winds".
लंडन, ब्रिटेनः हाईड पार्क बहुत बड़ा है और उसमें बहुत से फुव्वारे व स्मारक बने हैं. आज की तस्वीरों में हाईड पार्क के उत्तर-पूर्वी कोने से "जीवन आनन्द" नाम का फुव्वारा है जिसे 1963 में शिल्पकार थामस हक्सली जोनस ने बनाया था. इसके बीच में एक युगल नाच रहा है और चार कोनों में हवा में तैरते बच्चे हैं. इसे "चार हवाएँ" भी कहते हैं.
Londra, Inghilterra: Hyde park è enorme e contiene diversi monumenti e fontane. Le immagini di oggi hanno la fontana "Gioia della vita" dal angolo nord-est di Hyde park, creato dallo scultore Thomas B. Huxley-Jones. La fontana ha una coppia danzante in centro e 4 bambini galleggianti ai quattro angoli. E' chiamata anche "Quattro venti".
***