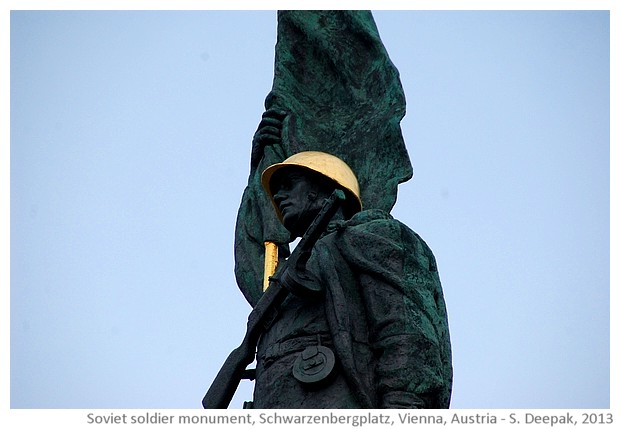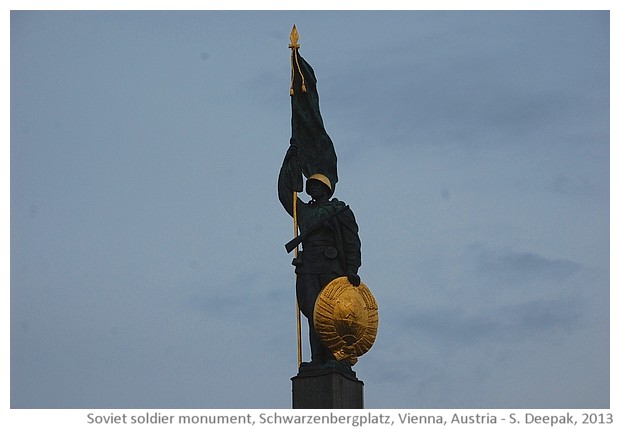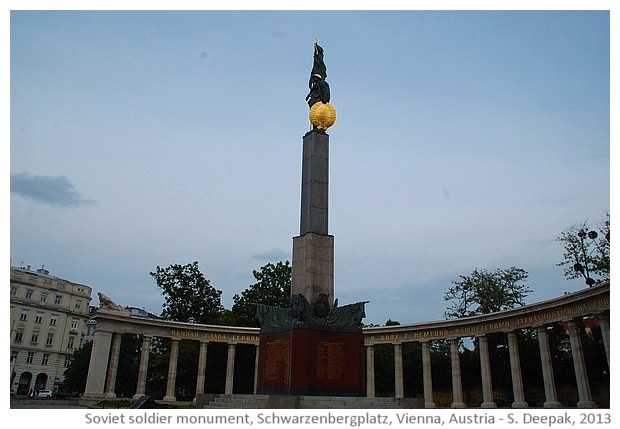 Vienna, Austria: During the second world war, for a few weeks, Vienna was under the Russian army. In the battle for Vienna, around 17,000 Russian soldiers had died, in whose honour the Russians had built a monument. After the war, many Viennese asked to remove this monument but Austrian government did not agree. The monument is called "Heroes' monument of the red army" but some Viennese call it "looters' monument" or the "unknown rapist's monument". I think that if this monument had not been there, nobody would have remembered that battle or the Russian occupation. While now, when you see the monument covered with Russian words, you are surprized and ask how did it come around?
वियेना, ओस्ट्रियाः द्वितीय विश्वयुद्ध में कुछ सप्ताहों के लिए वियेना पर रूसी सैना का शासन था. वियेना पर कब्ज़े की लड़ाई में 17,000 रुसी सिपाही मरे थे, जिनके सम्मान में रूसी शासन ने एक स्मारक बनवाया. युद्ध के बाद बहुत वियेना नागरिकों ने इस स्मारक को हटाने का प्रस्ताव रखा पर ओस्ट्रिया की सरकार ने उन प्रस्तावों को अस्वीकार कर दिया. इस स्मारक का नाम है "लाल सैना के बहादुर सिपाही का स्मारक", जबकि वियेना के कुछ लोग इसे "लुटेरों का स्मारक" या "गुमनाम बलात्कारी का स्मारक" कहते हैं. मैं सोचता हूँ कि अगर यह स्मारक न होता तो आज किसी को उस लड़ाई व रूसी शासन की कुछ याद न होती, लोग सब कुछ भूल चुके होते, जबकि आज जब आप वियेना शहर के केन्द्र में रूसी भाषा से सजे इस स्मारक को देखते हैं तो चौंक कर पूछते हैं कि यह कैसे बना?
Vienna, Austria: Durante la seconda guerra mondiale, per alcune settimane, Vienna era sotto l'armata russa. Nella battaglia per Vienna, circa 17.000 soldati russi avevano perso la vita e per ricordarli i russi avevano costruito un monumento. Dopo la guerra, alcuni viennesi avevano chiesto di togliere questo monumento ma il governo austriaco non acconsentì. Il monumento si chiama "Gli eroi dell'armata rossa", ma alcuni viennesi lo chiamano "il monumento ai rapinatori" o "il monumento allo stupratore sconosciuto". Penso che se non ci fosse questo monumento, nessuno avrebbe più ricordato quella battaglia o l'occupazione russa, mentre oggi quando vedi l'imponente monumento tutto coperto di scritte in russo, sei sorpreso e vuoi sapere come mai hanno questo monumento?
***