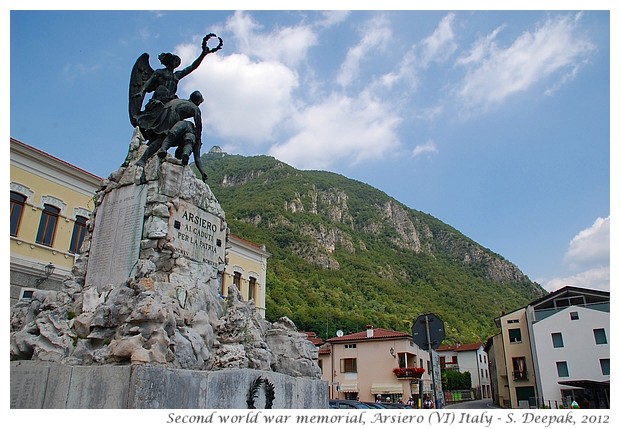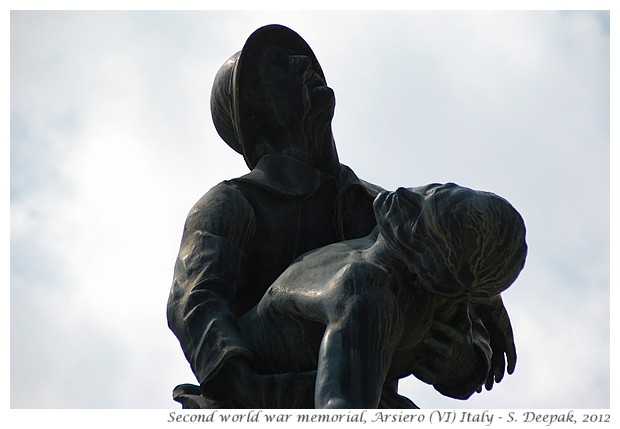 Arsiero, Italy: Reading the names of the guys who had died in the war, never fails to move me. Here in north of Italy, each small or big town and village has its memorial with the list of local guys who had died in the war. In the last two world wars, these mountains were the sites of deadly fightings.
अरसिएरो, इटलीः युद्ध में शहीद होने वाले सिपाहियों के नाम पढ़ूँ तो मन भर आता है. यहाँ उत्तरी इटली में एल्पस के पहाड़ों के हर छोटे बड़े शहर और गाँव में शहीद स्मारक बने हैं जिन पर मरने वाले स्थानीय युवकों की लिस्ट लगी होती है. पिछले दोनो विश्व युद्धों में इन पहाड़ों पर घमासान लड़ाई हुई थी.
Arsiero, Italia: Leggere i nomi delle persone cadute in guerra mi commuove ogni volta. Qui nel nord d'Italia, ogni città e villaggio, grande o piccolo, ha la sua memoriale con la lista dei ragazzi locali caduti durante la guerra. In entrambe le guerre mondiali, queste montagne hanno visto tremende battaglie.
***