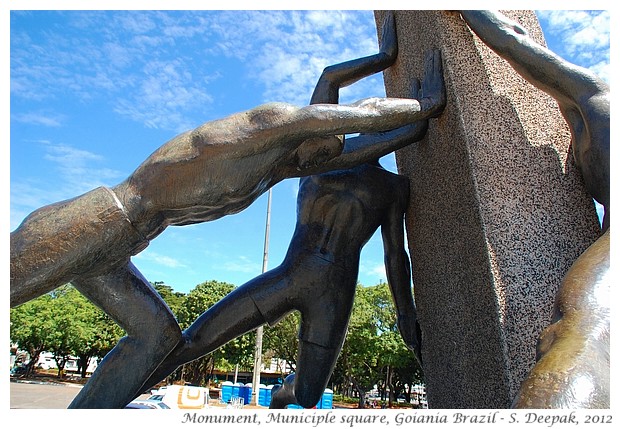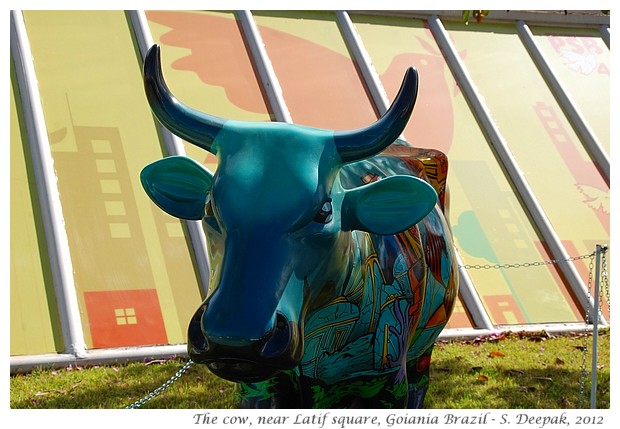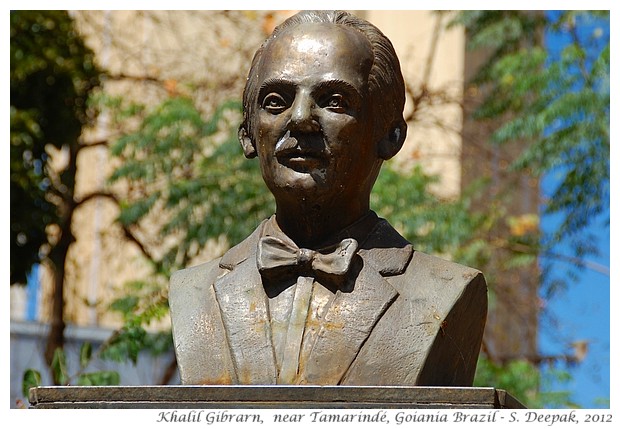 Goiania, Brazil: There can be different reasons for putting up statues in a city such as, for advertisement or for remembering some person or some event. Whatever the reason, art if it is meaningful, touches your heart in some way, makes you reflect or gives a feeling a beauty. A somewhat similar thought made me select the 3 images of very different statues for today. The first image remind me of fascist style and also the socialist kind of sculptures made in Russia and China. The cow seems inspired by the colurful cow statues that are so common in Netherlands, but also reminds me of
Kaamdhenu
from the Indian myths. I like the statue in the last image because it has Lebanese author and thinker Khalil Gibran, whose writings had a deep impact on me when I was an adolescent.
गोयानिया, ब्राज़ीलः शहर में कला शिल्प बनवाने के विभिन्न कारण हो सकते हैं, कभी विज्ञापन के लिए तो कभी किसी व्यक्ति को या किसी बात को याद करने के लिए. बनवाने का कारण जो भी हो, कला अगर सार्थक है तो किसी तरह से मन को छूती है, कुछ सोचने के लिए विचार देती है, या सुन्दरता की अनूभूति देती है. कुछ इसी दृष्टि से चुनी हैं आज की तीन, आपस में बहुत विभिन्न मूर्तियाँ. पहली मूर्ति में मुझे कुछ फासीवादी शैली की झलक मिलती है और कुछ रूसी चीनी समाजवादी शिल्प की. दूसरी मूर्ति की गाय, होलैंड में बनायी जाने वाली रंग बिरंगी गायों के शिल्प से प्रेरित लगती है पर साथ ही भारतीय मिथक कामधेनू की याद दिलाती है. अंतिम मूर्ती मुझे इस लिए अच्छी लगती है क्योंकि वह लेबनानी लेखक, विचारक ख़लील गिब्राँ की है, जिन्हें मैंने लड़कपन में पढ़ा था तो उनसे बहुत प्रभावित हुआ था.
Goiania, Brasile: Vi possono essere diversi motivi perché si decide di installare delle sculture in una città, per esempio, per la pubblicità o per ricordare qualcuno o qualche evento. Qualunque sia il motivo, arte è significativa quando riesce a toccare il mio cuore in qualche modo, che mi fa riflettere o che mi dà un senso di bellezza. Un pensiero simile ha influenzato questa scelta delle immagini di 3 statue, molto diverse fra di loro. La prima statua mi fa pensare allo stile fascista e anche alle statue socialiste in Russia e Cina. La mucca mi sembra ispirata dalle statue di mucche colorate che si trovano spesso in Olanda, ma allo stesso momento mi fa pensare il mito indiano di
Kaamdhenu
. L'ultima statua mi piace perché ha l'autore e pensatore libanese Khalil Gibran, i suoi scritti mi avevano influenzato fortemente quando ero un adolescente.
***