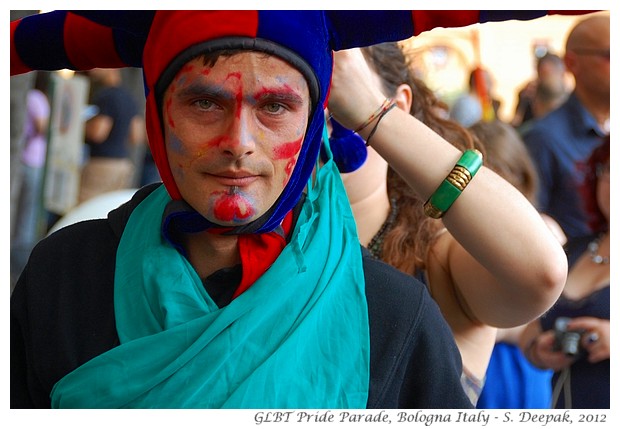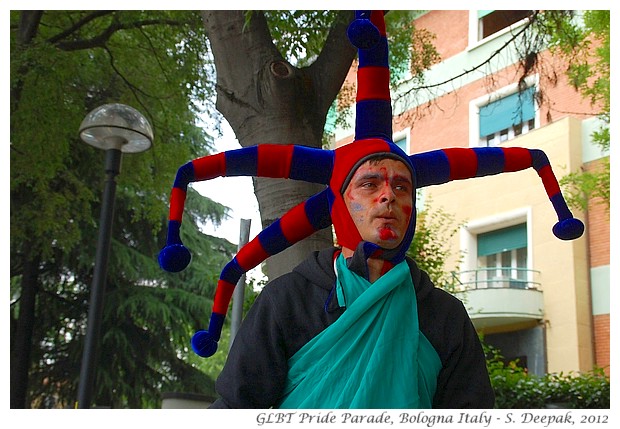 Bologna, Italy: Putting on colours, wearing colourful clothes, dancing without inhibitions, I can't do any of these. I feel a bit strange and wonder what would others think. Thus, when I see others who can do it, I admire them. Today's images are from the Gay-Lesbian_Transgender prdie parade and have a stilt dancer wearing a colourful horned cap.
बोलोनिया, इटलीः चेहरे पर रंग लगाना, रंग बिरंगे कपड़े पहनना, बेझिझक नाचना, मैं यह कुछ नहीं कर पाता. भीतर से कुछ अजीब सा लगता है कि लोग क्या सोचेंगे. इसलिए जब किसी को यह सब करते हुए देखता हूँ तो वे लोग मुझे बहुत अच्छे लगते हैं. आज की तस्वीरों में, पिछले दिनों की समलैंगिक-अंतरलैंगिक गर्व परेड से रंग बिरंगी सींगों वाली टोपी पहने हुए लम्बें डँडों पर चढ़ कर नृत्य करने वाला एक युवक.
Bologna, Italia: Dipingersi con i colori, portare vestiti colorati, danzare senza inibizioni, non sono capace di fare niente di questo. Mi preoccupo di cosa penseranno gli altri. Per cui quando vedo persone che possono fare tutto questo, le ammiro molto. Le immagini di oggi sono dalla parata GLBT, con un danzatore sui trampoli che portava un cappello multicolore con delle corna.
***