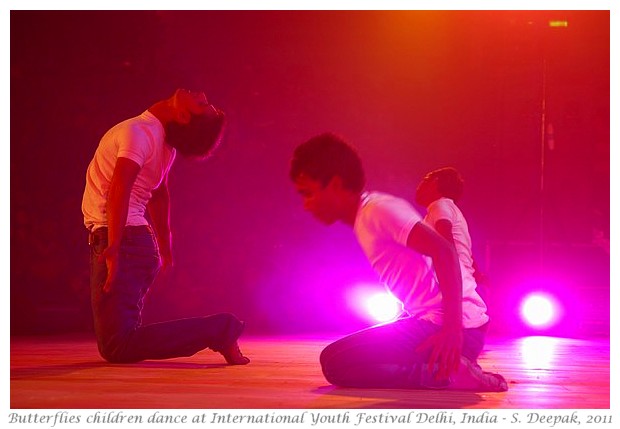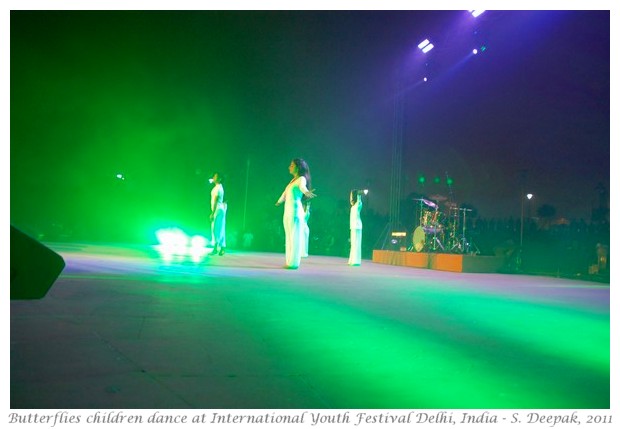 Delhi, India: At the International Youth Festival, the Delhi NGO called "Butterflies" presented the dance of street children. Their contemporary dance, a mix of hip-hop, break-dance, etc. was on the beats of Bollywood and they seemed very confident. I think that dance and culture are potent mediums for promoting empowerment, and I would like to extend all my best wishes to them.
दिल्ली, भारतः दिल्ली के अन्तरराष्ट्रीय युवा फेस्टिवल में दिल्ली की स्वयंसेवी संस्था "बटरफ्लाईस" ने सड़क पर रहने वाले बच्चों का नृत्य प्रस्तुत किया. उन्होंने हिप होप, ब्रेकडाँस जैसी शैलियों को मिला कर बालीवुड संगीत की धुन पर आधुनिक नृत्य किया. मेरे विचार में नृत्य और साँस्कृतिक माध्यम से आत्मविश्वास और सशक्तिकरण बन सकता है, मेरी शुभकामनाएँ उन सभी बच्चों को.
Delhi, India: Al festival internazionale dei giovani, un'associazione di Delhi che si chiama "Butterflies" ha presentata la danza dei bambini di strada. Con un miscuglio di stili tra i quali, hip hop e breakdance, la loro danza contemporanea sui ritmi di Bollywood era molto dinamica. Credo che danza e cultura possono essere potenti mezzi per la promozione di emancipazione e auguro un migliore futuro a tutti loro.
***
More images of dance by street children of Butterflies are on
Kalpana image archive
- Altre immagini della danza dei bambini di strada di Butterflies sono sul
archivio fotografico di Kalpana
- सड़क पर रहने वाले बच्चों के नृत्य की अन्य तस्वीरें
कल्पना के फोटो आरकाइव
पर देख सकते हैं.
***