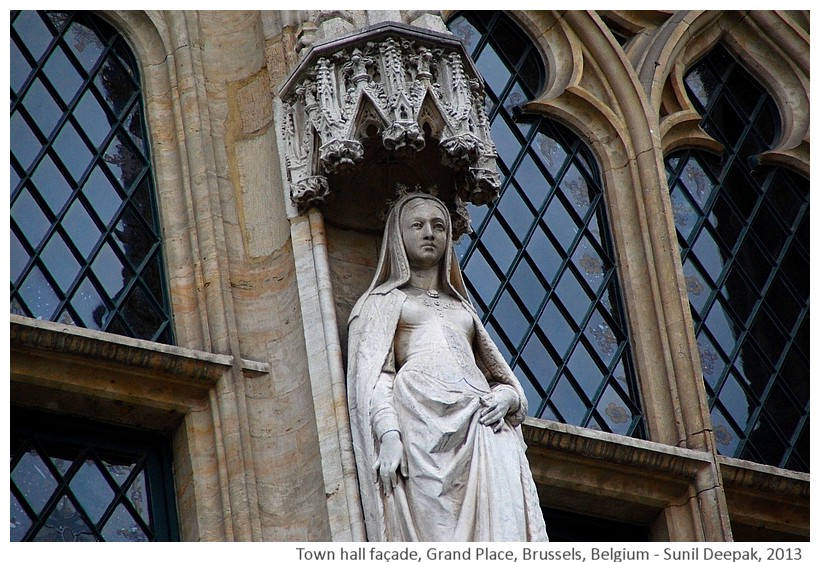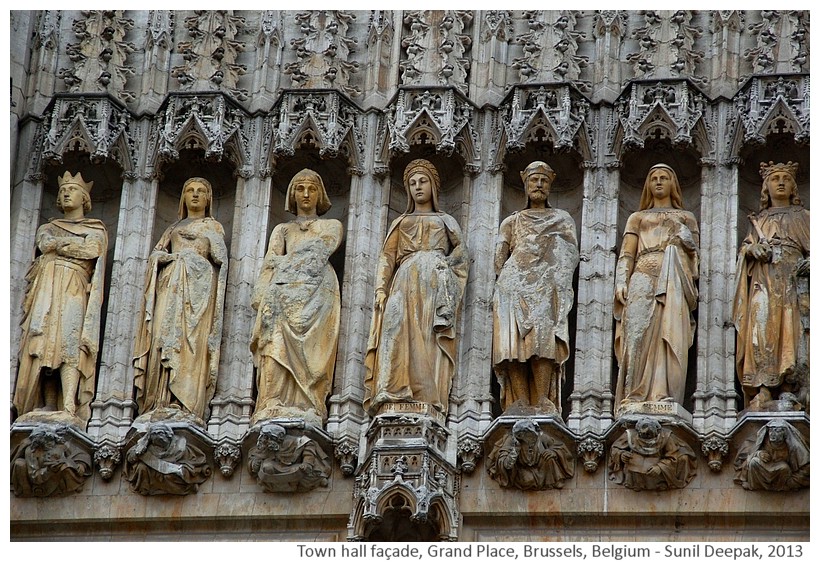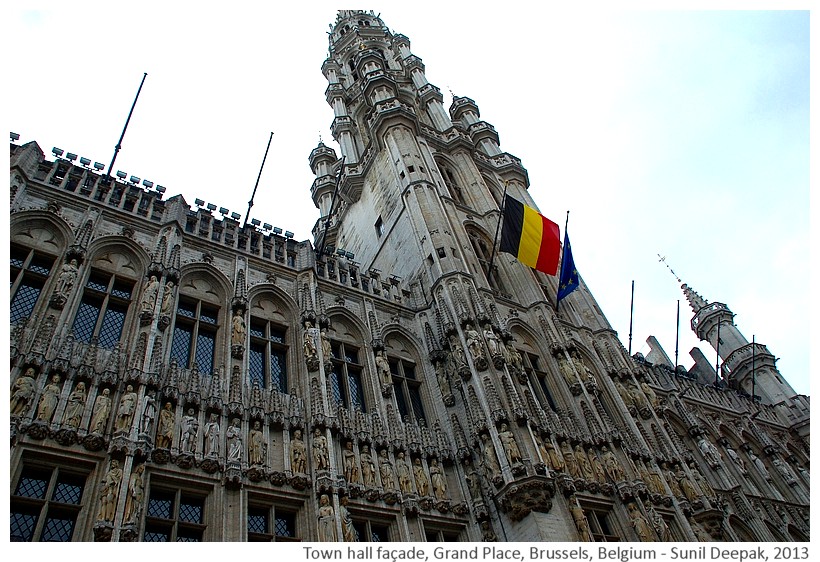 Brussels, Belgium: The imposing Town Hall building is in the main city square called Grand Place. Built originally in the fifteenth century, it was destroyed in a war and was repaired around 1840. On its outer walls, 300 statues of important persons of Brussels were placed including nobles, magistrates, philosophers and artists. When the names of the persons whose statues were to be placed there were decided, there must have been a lot of discussions - those whose statues were put there must have been very proud, while those who were excluded must have been sad. Today no one remembers anything about most of the statues.
ब्रस्लज़, बेलजियमः शहर के सबसे महत्वपूर्ण स्कावायर "ग्राड प्लेस" में भव्य नगरपालिका भवन है. पंद्रहवीं शताब्दी का यह भवन युद्ध में नष्ट हो गया था और सन् 1840 के पास इसकी मरम्मत की गयी. बाहर की दीवार पर ब्रस्लज़ के राजघरानों, मजिस्ट्रेट, दर्शनशास्त्री, कलाकार आदि महत्वपूर्ण व्यक्तियों की 300 मूर्तियाँ लगायी गयीं. जब यह निर्णय लिया गया होगा कि किसकी मूर्ति लगायी जाये, तो जाने कितनी बहसें हुई होगीं, कुछ लोग अपनी मूर्ति का सोच कर प्रसन्न हुए होंगे और जिनकी मूर्तियाँ न बनी हों, वह दुखी हुए होंगें. समय ने सबके नाम मिटा दिये, आज अधिकतर मूर्तियों के बारे में किसी को नहीं मालूम कि किसकी मूर्तियाँ थी!
Bruxelles, Belgio: L'imponente edificio del municipio è nella piazza centrale, Gran Palazzo. Costruito originariamente nel quindicesimo secolo, fu distrutto durante una guerra e fu ricostruito intorno al 1840. Sulle sue mura esterne, avevano messo 300 statue dei personaggi importanti di Bruxelles compreso i nobili, i magistrati, i filosofi e gli artisti. Quando avevano deciso quale persone scegliere per le statue, sicuramente avrebbero avuto molte discussioni - quelli che erano stati scelti, magari si sentivano orgogliosi mentre quelli esclusi si sentivano tristi. Oggi quasi nessuno conosce chi erano le persone in quelle statue.
***