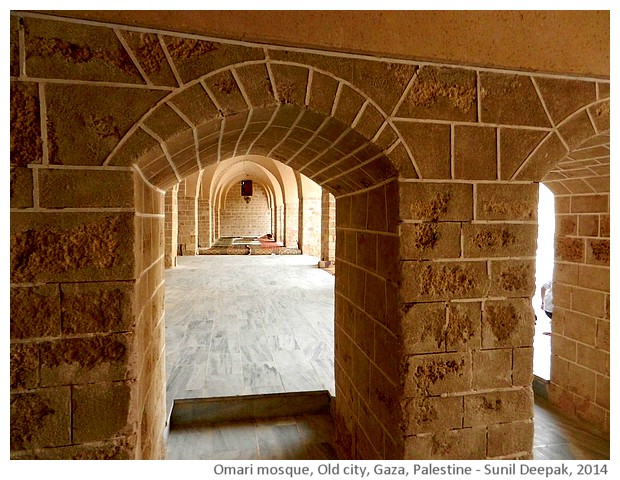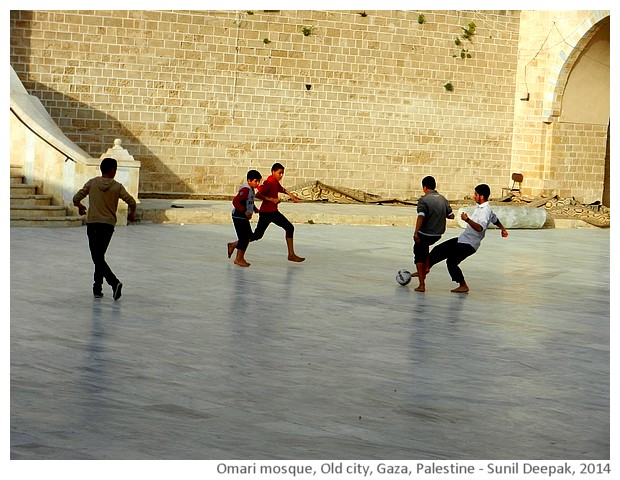 Gaza, Palestine: Omari mosque is the oldest mosque of Gaza. There, on one side, some persons were sleeping on mats. A man was praying and children were playing football in the courtyard. Some parts of the mosque building show parts of an antique Roman style church. Someone told me that they had also found signs of an ancient Dogan temple in that area.
गाज़ा, फिलिस्तीनः उमरी मस्जिद गाज़ा की सबसी पुरानी मस्जिद है. वहाँ एक ओर कुछ लोग दरियों पर सो रहे थे. कोई नमाज़ पढ़ रहा था और आँगन में बच्चे फुटबाल खेल रहे थे. मस्जिद के भवन के कुछ हिस्सों में प्राचीन रोमन शैली के गिरजाघर के हिस्से भी दिखते हैं. किसी ने बताया कि वहाँ गिरजाघर बनने से पहले प्राचीन दागोन देवता का मन्दिर था जिसके अवषेश मिले थे.
Gaza, Palestina: La moschea di Omari è la più vecchia di Gaza. Là, da una parte alcune persone dormivano. Un uomo pregava mentre alcuni bambini giocavano calcio nel cortile. Alcune parti del edificio della moschea mostrano parti di un'antica chiesa in stile romano. Qualcuno mi aveva raccontato che avevano trovato anche i resti di un antico tempio Dogan in quell'area.
***