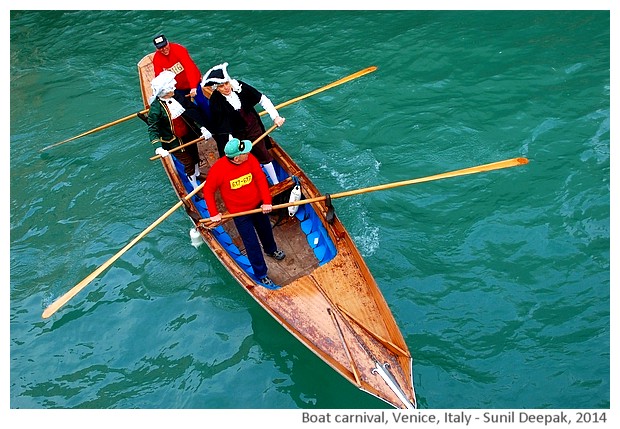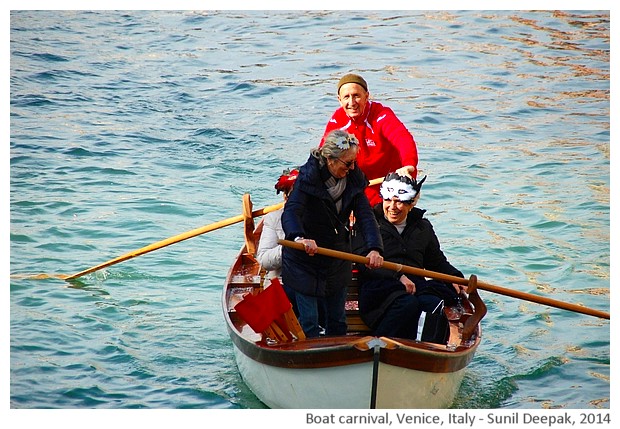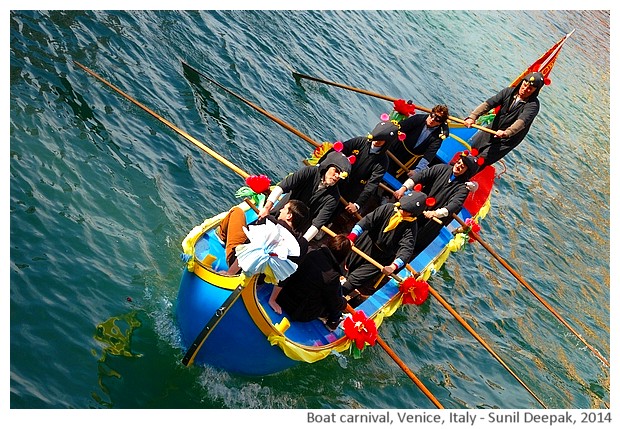 Venice, Italy: Carnival celebrations last for 3 weeks. Usually I go to Venice in the last part of this period as then you can see the most beautiful masks and costumes. However, this time I went there in the initial part to see the boat carnival. The masks and costumes were very simple. The path covered by the boats is quite long, almost the whole length of Grand Canal. However the people did not look tired. This part of carnival may not be very touristy, but from the point of view of people's enjoyment it was great fun.
वेनिस, इटलीः कार्निवाल करीब 3 सप्ताह के लिए मनाते हैं. मैं हमेशा इसके अंतिम भाग में वेनिस जाता था क्योंकि तभी सबसे सुन्दर मुखौटे और पौशाकों देखने का मौका मिलता है. इस बार मैं कार्निवाल के प्रारम्भ में नावों का कार्निवाल देखने गया. मुखौटे व पौशाकें कुछ विषेश नहीं थीं. नाव चलाने का रास्ता लम्बा है, पूरी ग्रैंड कनाल को पार करता हुआ पर लोग थके हुए नहीं लग रहे थे. लगा कि इस तरह का कर्निवाल पर्यटकों की दृष्टि से विषेश न भी हो, लोगों के आनन्द लेने की दृष्टि से किसी बात में कम नहीं था.
Venezia, Italia: Il carnevale dura circa 3 settimane. Di solito vado a Venezia verso la fine del periodo perché allora si vedono le maschere e i costumi più belli. Invece questa volta ho voluto andare all'inizio per vedere il carnevale delle barche. Infatti le maschere e i costumi erano molto semplici. La strada che le barche dovevano coprire non era poca, quasi tutta la lunghezza del Canale Grande. Comunque le persone non sembravano stanche. Questa parte del carnevale, forse non è molto frequentata dai turisti, ma dal punto di vista del divertimento delle persone era molto bella.
***
If you are planning a visit to Venice, you can check my blog post:
Essential Venice Guide for Dummies
***