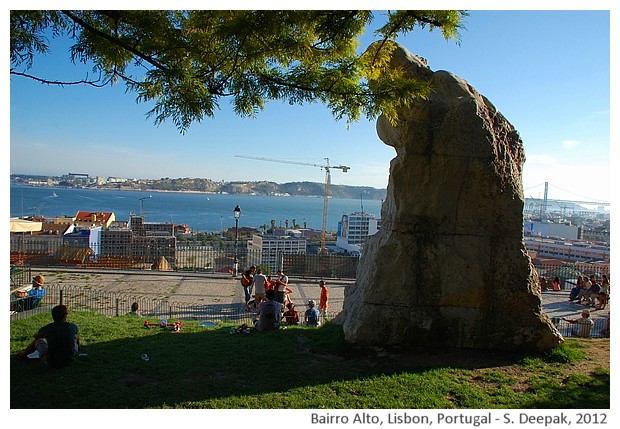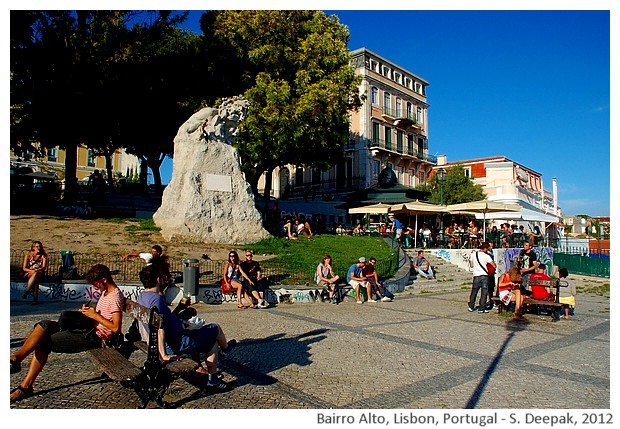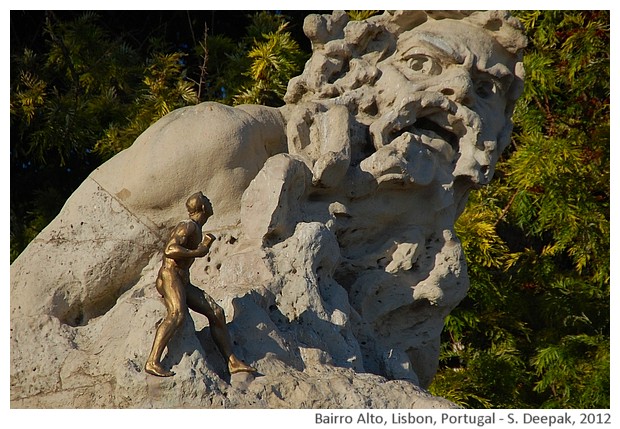 Lisbon, Portugal: The old part of the city is built on a hill and is called Bairro Alto (high city). From there you can find beautiful views of the bay of Lisbon and the roofs of the houses. There I saw this sculpture showing a giant with fear in his eyes and a nude man. May be it shows nature afraid of the humans?
लिसबन, पुर्तगालः शहर का पुराना हिस्सा एक पहाड़ी पर बना है जिसे "बाइरो आल्तो" (ऊँचा शहर) कहते हैं. वहाँ से लिसबन की खाड़ी के और शहर की छतों के सुन्दर दृश्य देख सकते हैं. वहीं एक जगह यह शिल्प दिखा जिसमें भयभीत भीमकाय पुरुष आकृति और उसके सामने एक नग्न पुरुष बने हैं. शायद यह मनुष्य से डरी हुई प्रकृति को दिखा रहे हैं?
Lisbona, Portogallo: La vecchia parte della città è costruita su una collina e si chiama "Bairro alto" (città alta). Da qui troverete belle vedute della baia di Lisbona e dei tetti delle case. Lì ho trovato questa scultura con un gigante che sembra avere paura e di una figura umana nuda. Forse vuole esprimere la paura della natura di fronte all'uomo?
***