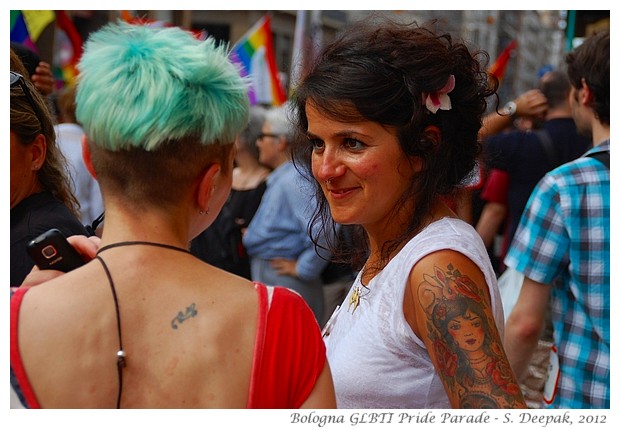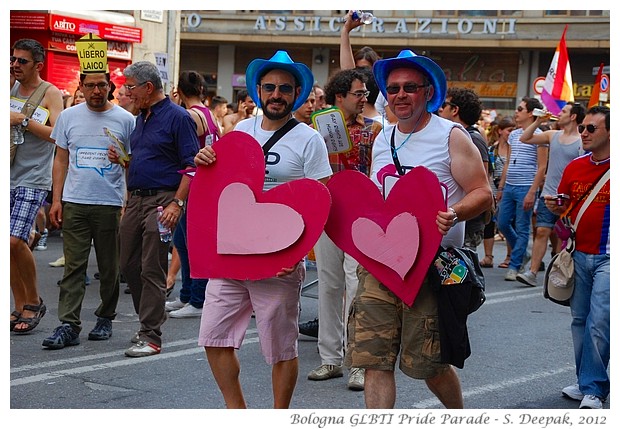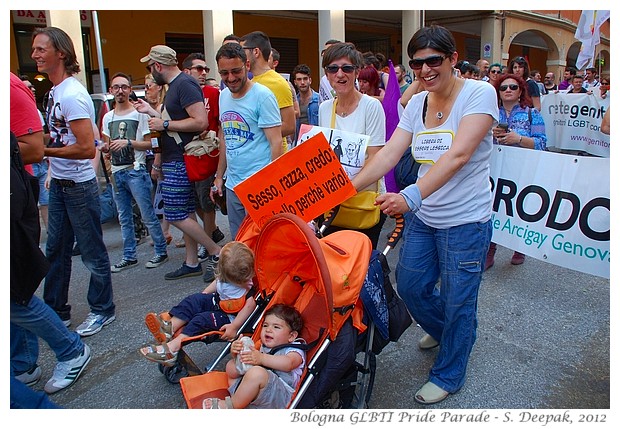 Bologna, Italy: Friends, companions, lovers, couples. Everybody needs love. Desire for someone who can understand us. Who loves us. To whom we can tell what is in our hearts. Today's images has some friends-companions-lovers-couples from GLBTI Pride Parade of Bologna. How do you feel when you see together persons of the same sex with the idea that they may be more than "good friends"? Are you ok with it or does it make you feel disturbed?
बोलोनिया, इटलीः मित्र, साथी, प्रेमी, युगल. हर किसी को प्रेम की चाह होती है. किसी दूसरे की इच्छा जो हमें समझ सके. जो हमें चाह सके. जिसे दिल की बात कह सकें. आज की तस्वीरों में बोलोनिया के समलैंगिक अंतरलैंगिक गर्व परेड से कुछ मित्र-साथी-प्रेमी-युगल. जब दो युवकों या युवतियों को साथ देखें और यह विचार हो कि इनके बीच में "अच्छे मित्र" से अधिक कुछ है तो आप को कैसा लगता है? आप को इससे कोई एतराज़ नहीं या आप को कुछ ठीक नहीं लगता?
Bologna, Italia: Amici, compagni, amanti, coppie. Tutti hanno bisogno d'amore. Desiderio per quel altro che ci capisce. Ci ama. Al quale possiamo raccontare quello che sentiamo dentro i nostri cuori. Le immagini di oggi hanno alcuni amici-compagni-amanti-coppie dalla parata orgoglio GLBTI di Bologna. Quando vedete insieme persone dello stesso sesso con l'idea che possono essere più di "buoni amici", come vi fa sentire? Siete ok con questa idea o vi fa sentire turbati?
***