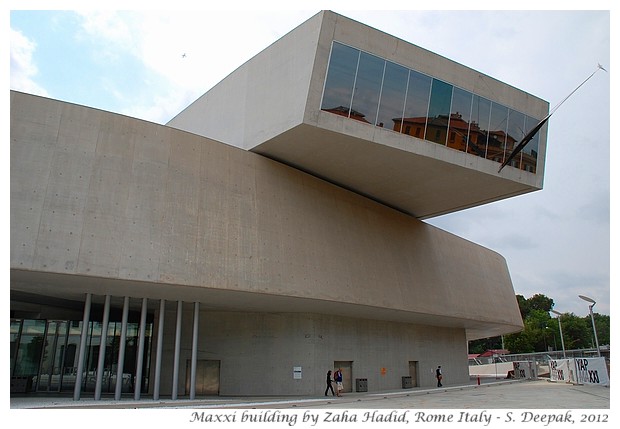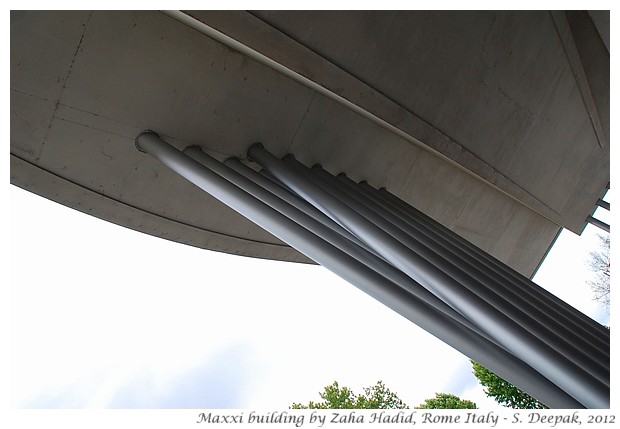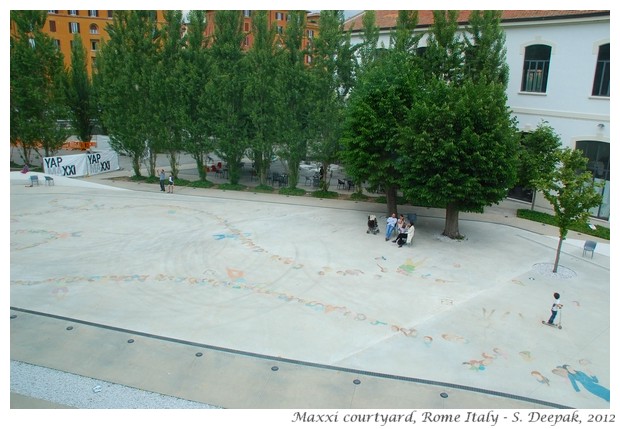 Rome, Italy: The museum of modern art Maxxi has been designed by Zaha Hadid, an architect of Iraqi origin. I didn't like the outside of this building, though I liked the way the surrounding houses reflected in its glass, mixing together traditional and modern. I saw cut heads of persons in the designs of its courtyard, it was an unpleasant sensation.
रोम, इटलीः आधुनिक कला संग्रहालय मेक्सी की वास्तुशिल्पकार इराकी मूल की सुश्री ज़ाहा हदीद हैं. बाहर से मुझे यह भवन विषेश अच्छा नहीं लगा, बस उसके शीशे पर आसपास के पारम्परिक भवनों की परछाई से आधुनिकता और पारम्परिकता की सम्मिश्रिण अच्छा लगा. उसके प्रांगण में बने चित्रों में मुझे लोगों के कटे हुए सिर दिख रहे थे, अच्छा नहीं लग रहा था.
Roma, Italia: Il museo dell'arte moderna Maxxi, è stato disegnato da Zaha Hadid, un'architetto di origine irachena. Non mi è piaciuto l'esterno del museo, anche se mi piacevano le riflessioni degli edifici vicini sul suo vetro, mescolando insieme tradizionale e moderno. I disegni nel suo cortile, mi parevano come teste tagliate delle persone, una sensazione sgradevole.
***