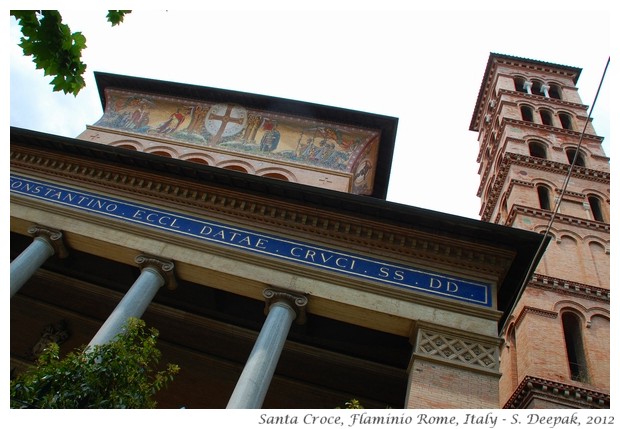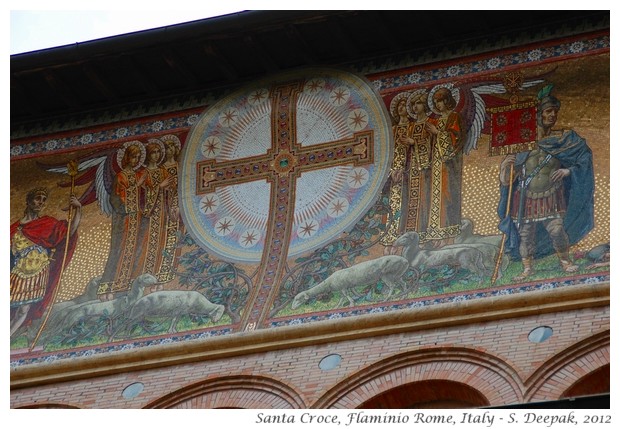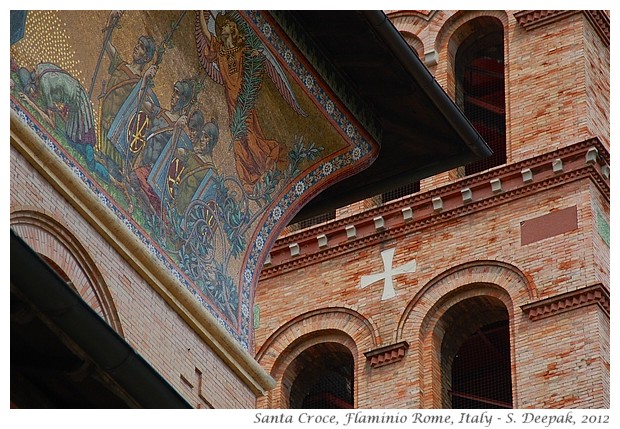 Rome, Italy: The Santa Croce church in Flaminio area of Rome has beautiful mosaics. Mosaics are made by putting together small pieces of glass or ceramics in different colours. When you look at mosaics from a distance, you don't see single pieces but rather a composite image. The same Mosaic principle is used in many other ways like for making embroidery with threads of different colours and for showing images and words on computer screens, made with pixels.
रोम, इटलीः फ्लामिनियो के साँता क्रोचे गिरजाघर के बाहर बहुत सुन्दर पच्चीकारी है. पच्चीकारी में रंगो से चित्र बनाने के बदले काँच या सिरामिक के विभिन्न रंगों के टुकड़ों से कलाकृतियाँ बनायी जाती हैं. दूर से देखें तो अलग अलग टुकड़े नहीं दिखते बल्कि सबको मिला कर एक छवि बन जाती है. इसी पच्चीकारी के सिद्धांत के अन्य कई उपयोग हैं जैसे कि विभिन्न रंगों के धागों से कढ़ाई करना और आप के क्मप्यूटर की स्क्रीन पर पिक्सल से बने शब्द और तस्वीरें.
Roma, Italia: La chiesa di Santa Croce in Flaminio ha belli mosaici. I mosaici si costruiscono con piccoli pezzi di vetro o di ceramica di diversi colori. Quando li guardi da una distanza, non vedi i singoli pezzi, ma vedi un'immagine. Questo stesso principio è utilizzato in diversi altri modi - per fare i recami con i fili di diversi colori e per costruire le parole e immagini sugli schermi dei computer con i pixel.
***