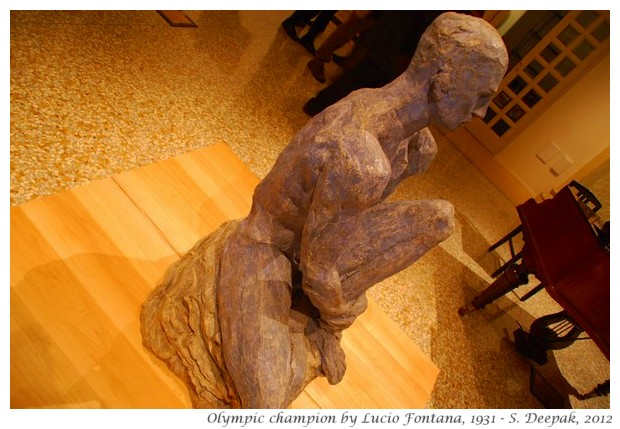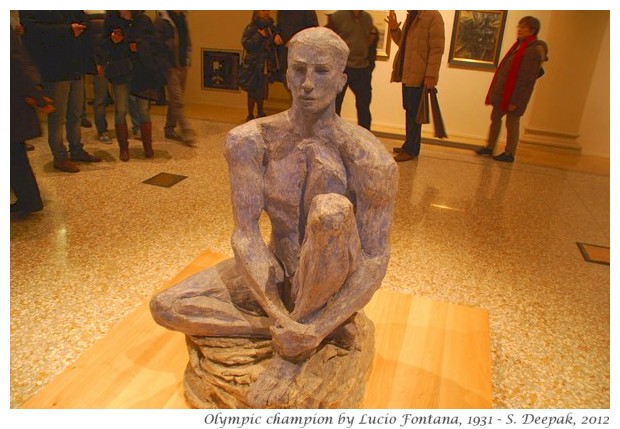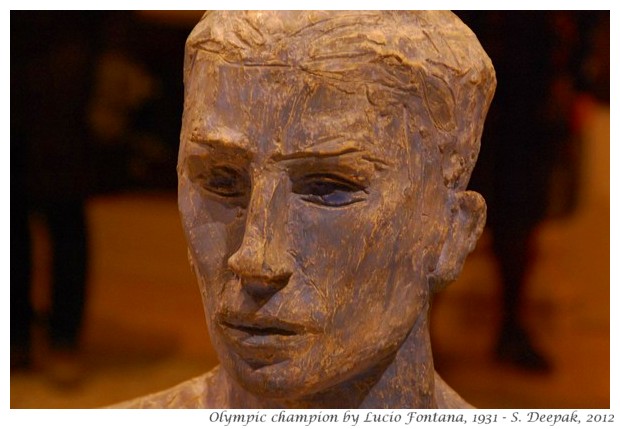 Bologna, Italy: The subject of today's images is "Olympic champion" from 1931 by Italo-Argentian scultor Lucio Fontana. I was struck by the light blue colour and the serious or even sad expression on statue's face. When I saw it, I wondered if Fontana had wanted to show the masculine image of fascism that was dominating the public life in Italy at that time? Then I thought that perhaps the roots of this sculpture go back to his own experiences in the first world war.
बोलोनिया, इटलीः आज की तस्वीरों का विषय है इतालवी-अर्जेन्टीनी शिल्पकार लूचियो फोनताना की कृति "ओलिम्पिक विजेता" जिसे उन्होंने 1931 में बनाया. मुझे मूर्ति के हल्के नीले रंग और कुछ गम्भीर और उदास मुद्रा ने प्रभावित किया. कृति को देख कर पहले तो लगा कि शायद फोनताना ने इस शिल्प में उस समय उभरते फासीवाद में पौरुष की भावना को दिखाना चाहा था? फ़िर लगा कि शायद शिल्प की जड़ें उनके अपने द्वितीय विश्व महायुद्ध के अनुभवों में हों.
Bologna, Italia: Il soggetto delle immagini di oggi è il "Campione olimpico" dal 1931 di famoso scultore italo-argentino Lucio Fontana. Mi ha colpito molto il colore azzurro della statua e la sua espressione seria, quasi triste. Mentre lo guardavo, pensavo se Fontana voleva esprimere la figura maschile che dominava fascismo in quegli anni? Poi ho pensato che forse le radici della scultura vanno nel suo passato personale, nelle sue esperienze della seconda guerra mondiale.
***