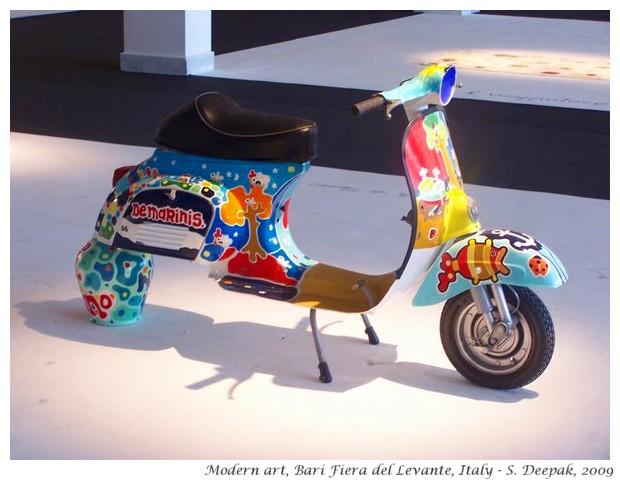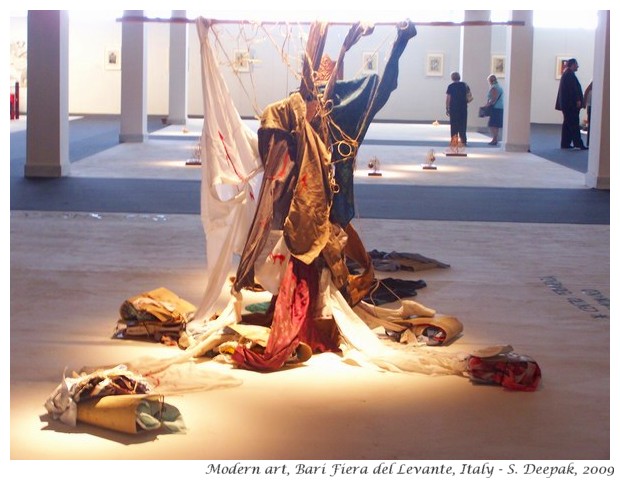 Bari, Italy: Art is supposed to give you new feelings, new way of looking at things, and in this sense all examples of art in today's images are successful. However, if someone asks you to choose one of these for your home, which one will you choose? I think that most people will choose the painting. Unmarried guys are expert in the art of throwing around dirty clothes like in the second image and the keeping that scooter in the drawing room would require a huge house!
बारी, इटलीः कला का ध्येय है नयी अनुभूति देना, नयी सोच देना और इस दृष्टि से आज की तस्वीरों में प्रस्तुत कला सफ़ल है. लेकिन अगर आप से पूछें कि आप अपने घर में इनमें से कौन सी कलाकृति लगाना चाहेंगे तो आप क्या कहेंगे? मेरे विचार में अधिकतर लोग चित्रकला को चुनेंगे. दूसरी तस्वीर की कला जैसे गँदे कपड़ों को बेतरतीब फैला कर सजाने की कला में कुँवारे लड़के बहुत माहिर होते हैं और स्कूटर को ड्राईंगरूम में रखने के लिए घर बहुत बड़ा होना चाहिये!
Bari, Italia: L'arte vuole dare nuove sensazioni e far vedere il mondo con occhi diversi, e in questo senso tutti gli esempi di arte nelle immagini di oggi sono riusciti. Ma se devi decidere quali di questi esempi di arte vuoi avere in casa tua quale sceglieresti? Penso che la maggior parte di persone sceglierà il quadro. I ragazzi non sposati sono maestri nell'arte di spargere i vestiti sporchi come si vede nell'immagine 2 e per piazzare il vespa nel tuo soggiorno hai bisogno di una casa grande!
***