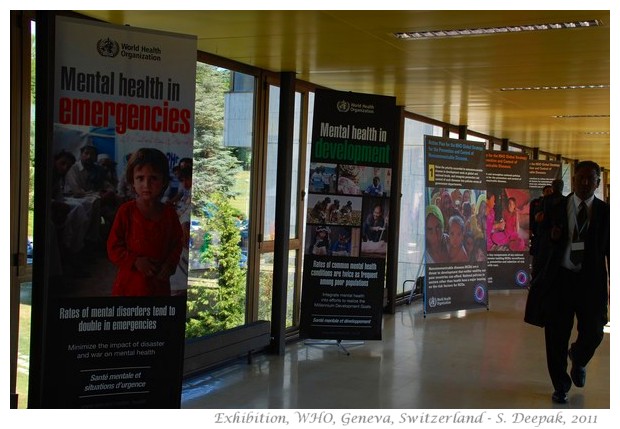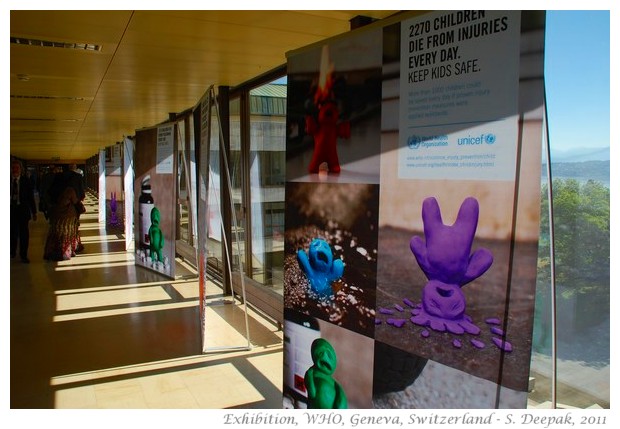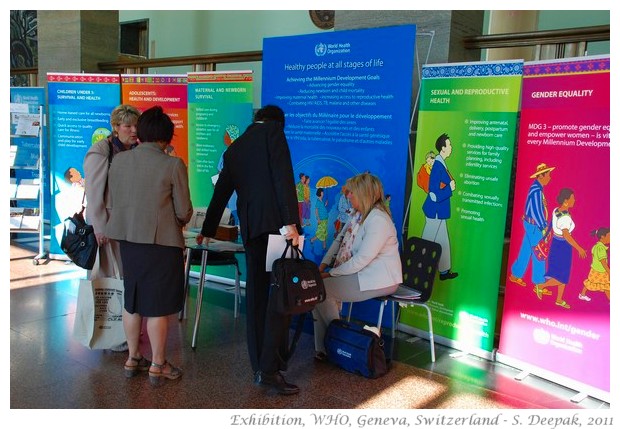 Geneva, Switzerland: Making posters, choosing colours and designs, it is all a science today. However, some days ago I was part of a jury to judge a poster competition and we could not decide who should get the award. In the end my conclusion was that like so many things in life, there are so many persons who do good work, but who wins is a question of luck. Anyway, today there are some posters from World Health Organisation (WHO) in Geneva.
जेनेवा, स्विटज़रलैंडः कैसे पोस्टर का डिज़ाईन बनाया जाये, कौन से रंगों का, किन शब्दों का प्रयोग किया जाये, इसे विज्ञान माना जाता है. लेकिन मुझे कुछ दिन पहले एक पोस्टर प्रतियोगिता की जूरी का सदस्य बन कर जब लोगों की मेहनत को जाँचने का मौका मिला और समझ ही नहीं आया कि पुरस्कार किसे दिया जाये. तो अंत में लगा कि अच्छा काम करने वाले तो कई होते हैं लेकिन जीत किसकी होती है इसमें जीवन की हर बात की तरह यहाँ भी किस्मत का स्थान महत्वपूर्ण है. खैर आज की तस्वीरों में जेनेवा से विश्व स्वास्थ्य संस्थान के कुछ पोस्टर.
Ginevra, Svizzera: Creare un manifesto, scegliere il disegno e i colori, tutto è considerato una scienza. Ma qualche giorno ero parte di una giuria per giudicare dei manifesti e non siamo riusciti a concordare quale era il migliore. Alla fine la mia conclusione era che come tante altre cose della vita, molte persone fanno un bel lavoro ma alla fine chi vince dipende anche dalla fortuna. Comunque, nelle foto di oggi alcuni poster dell'Organizzazione Mondiale della Salute (OMS) a Ginevra.
***