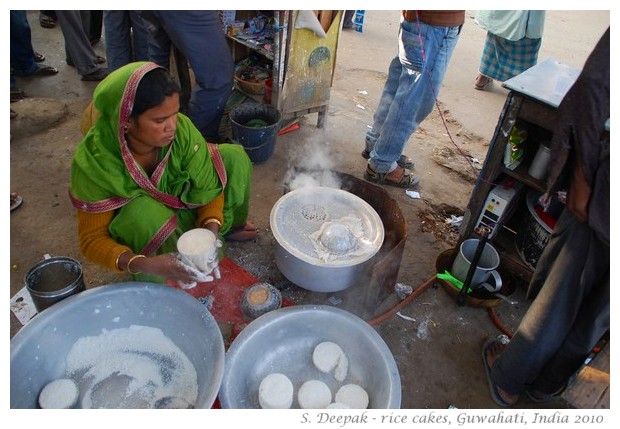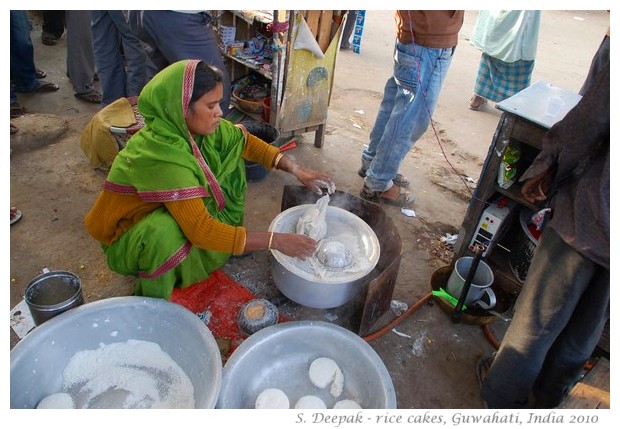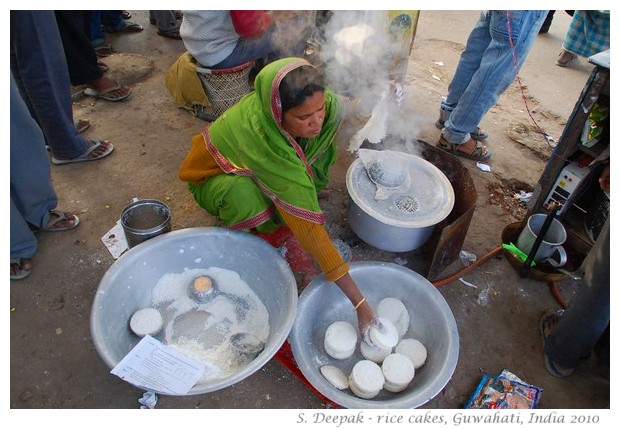 Assam, India: In Guwahati, near Brahmaputra river, saw a lady making rice bread. She filled cups with roughly grounded rice powder, covered it with clothe and put it on a metal plate with small holes. Underneath, there was boiling water and steam quickly cooked the rice. Tasty and fresh rice bread was ready in a jiffy.
असम, भारतः गुवाहाटी में ब्रह्मपुत्र नदी के पास चावल के केक बनाती एक स्त्री दिखी. कटोरी में चावल भरती, फ़िर कपड़े से ढक कर उसे छेद वाली थाली पर रख देती. नीचे पतीले में पानी उबल रहा था, छेदों से निकल कर भाप कुछ मिनट में ही चावल पका देती और स्वादिष्ट चावल के केक तैयार हो जाते.
Assam, India: A Guwahati, vicino al fiume Brahmaputra, ho visto una signora cucinare il pane di riso. Riempiva una coppetta con riso pestato in polvere, lo copriva con un panno e capovolgeva sopra un piatto con dei buchi. Sotto bolliva l'acqua e in un minuto il vapore cucinava il riso. Pane di riso fresco e gustoso era subito pronto per mangiare.
***