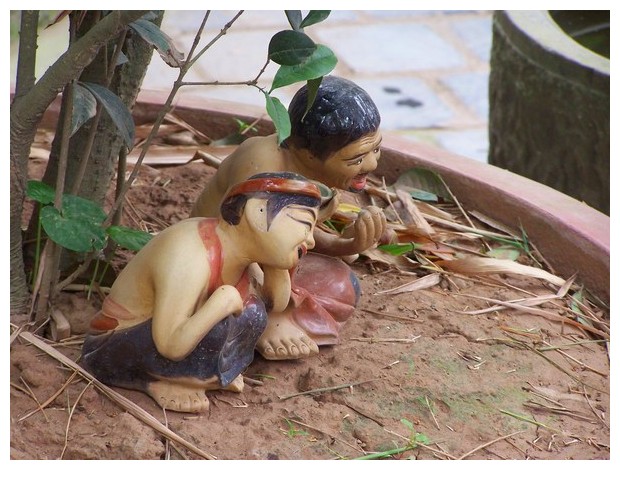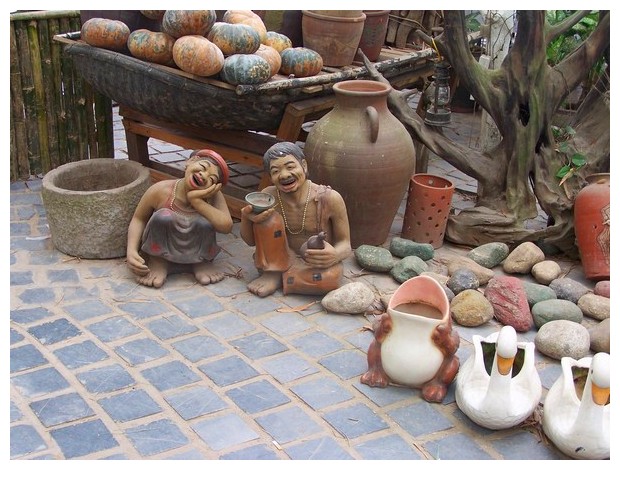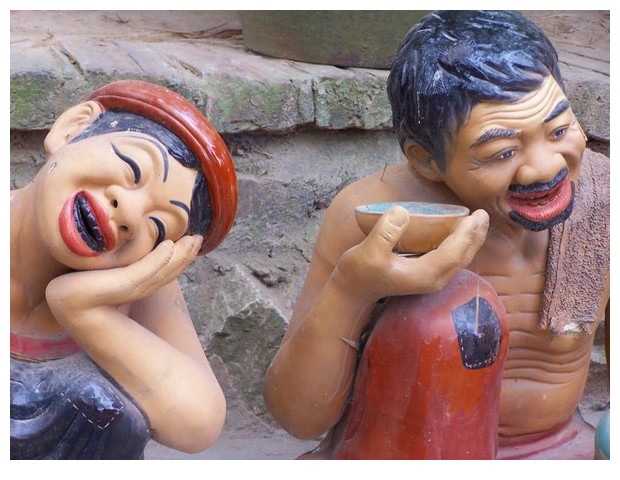 Vietnam has an unsual love story fable that is very popular, especially in the countryside. It is the story of middle aged drunkard Thi Bao and his girl friend, the middle aged, dim witted Xi No. Statues of the two lovers are very common, full of pathos and wry humour. Here are some pictures of these statues.
वियतनामः जैसे भारत में राजा भोज और गंगू तेली के किस्से सुनाते हैं वैसे ही वियतनाम में थीबाओ और सीनो की कहानियाँ सुनायी जाती हैं, यह दोनो विचित्र प्रेम कथा के नायक नायिका है. कथा का नायक थीबाओ एक प्रोढ़ नक्कार शराबी है और नायिका सीनो प्रोढ़ होती अविवाहित कम दिमाग वाली महिला जिसे प्रेम की तलाश है. इनकी कहानियों में दर्द भी है, व्यंग भी. इनकी मर्तियाँ देश में बहुत जगह देखने को मिलती है, जिनकी कुछ तस्वीरें प्रस्तुत हैं.
Vietnam ha una storia d'amore insolita molto popolare, sopratutto tra i contadini. E' la storia di Thi Bao, un uomo di mezz'età, un buon a nulla e ubriacone, e di Xi No, una signorina di mezz'età non molto intelligente. Le storie simili alle barzellette, hanno un sottofondo di pathos. Le statuine dei due amanti sono molto popolari. Nelle foto di oggi alcune immagini di queste statuine.