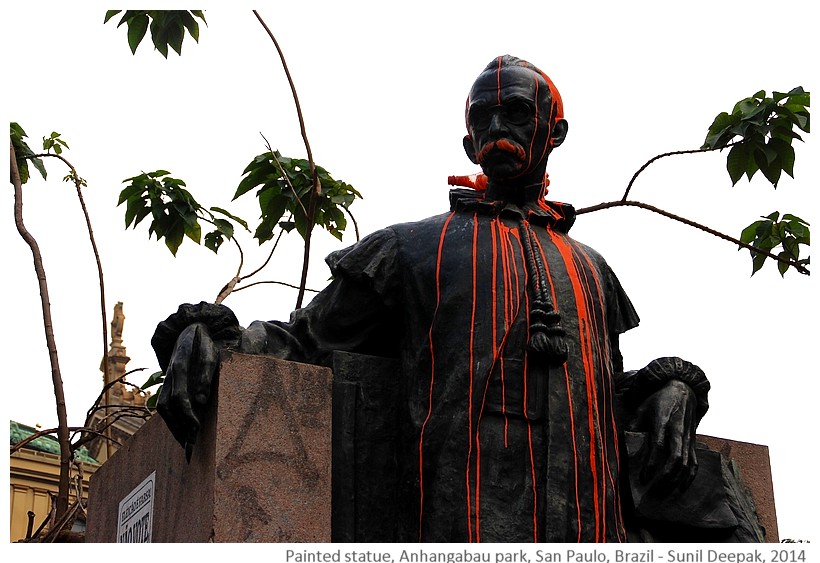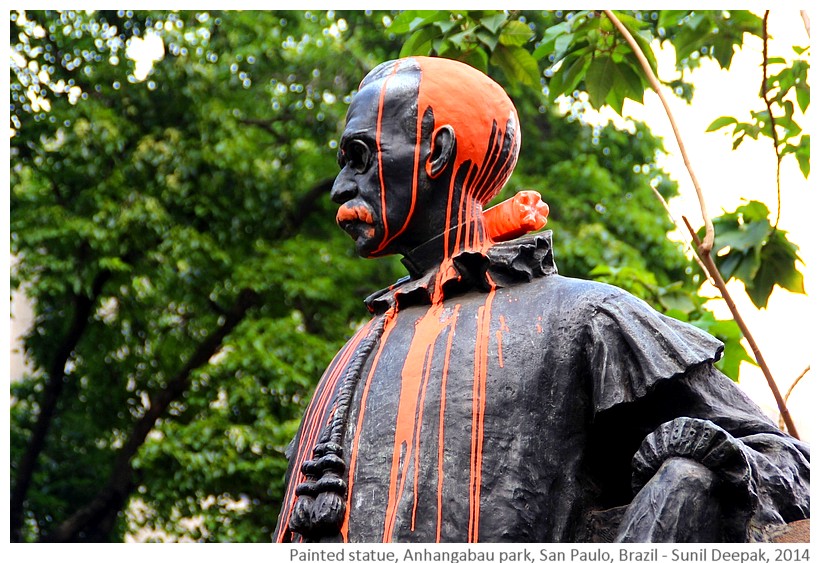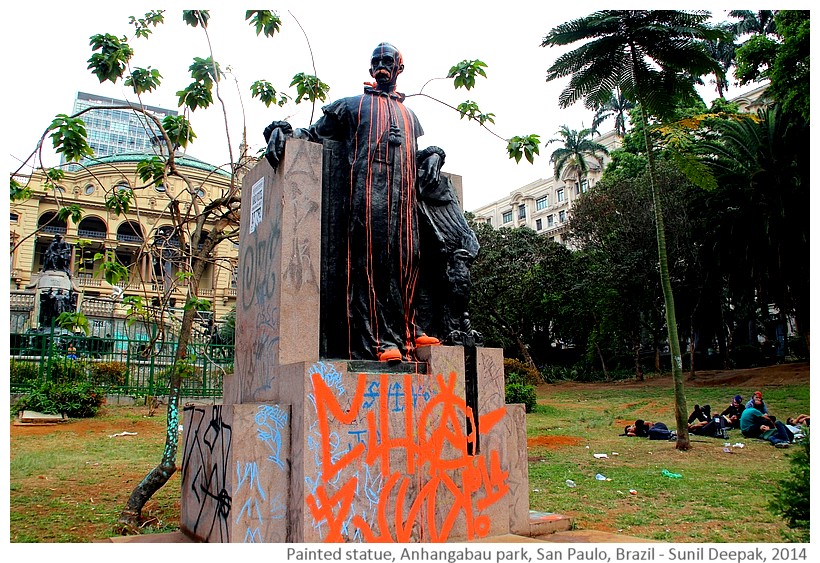 Brazil, San Paulo: I was mesmerized by that statue in the Anhangabau park. My first thought was that some protesting students have spoiled it by throwing colour on it. On a closer look I felt that the colour had not been thrown carelessly, rather some artist had worked properly to apply it in a certain way, that made it a symbol of the protest. Probably the followers of the person represented in the statue and the civic authorities see it as an example of uncivilized behaviour, but in terms of artistic expression, I loved it.
सन पाओलो, ब्राज़ीलः अन्हँगाबाउ बाग में उस मूर्ति को देख कर मैं मुग्ध हो गया. पहले तो सोचा कि शायद विद्रोही छात्रों ने उस पर रंग पोत कर उसे बिगाड़ा है. लेकिन करीब जा कर देखा तो लगा कि वह रंग लापरवाही या गुस्से से नहीं फैंका गया, उसे किसी कलाकार ने मेहनत और तरीके से लगाया है, जिससे वह मूर्ति विद्रोह का चिन्ह बन गयी है. जिसकी मूर्ति है उसके चाहने वालों को या शहर के अधिकारियों को इस तरह से मूर्ति पर रंग लगाना शायद अभद्रता लगेगी, पर कला की अभिव्यक्ति की दृष्टि से मुझे बहुत अच्छी लगी.
San Paolo, Brasile: Ero ipnotizzato da quella statua nel parco Anhangabau. Prima ho pensato che qualche studente che protestava l'ha rovinata buttando il colore sopra. Da più vicino, mi è sembrato che il colore non era stato buttato sopra a caso, ma che qualcuno l'aveva dipinto con cura, per farla diventare un simbolo della protesta. Immagino che per i seguaci della persona rappresentata in quella statua e per le autorità, questo è un esempio dei comportamenti incivili, ma nel senso dell'espressione artistica, mi è piaciuto molto.
***