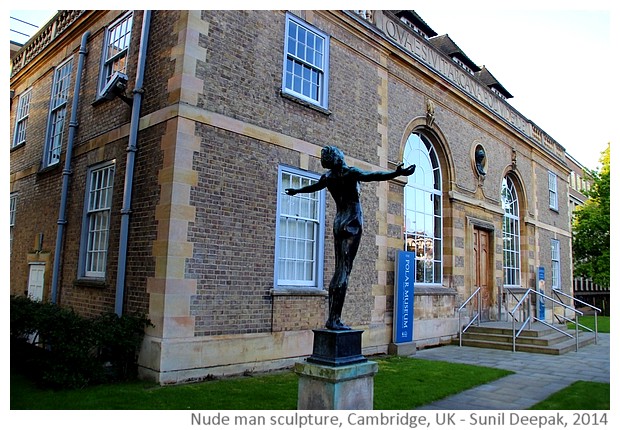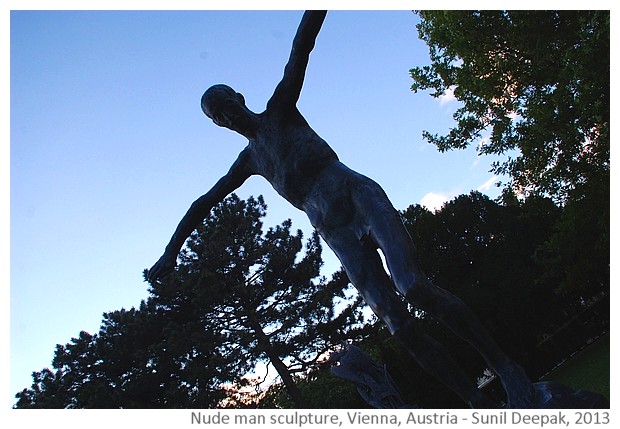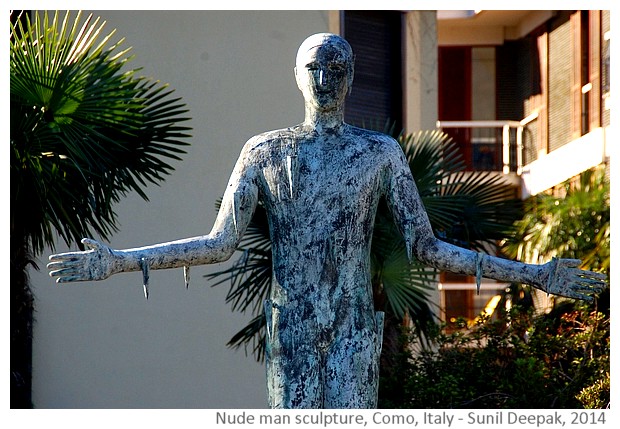 Europe: Arms stretched open means invitation for a hug or expression of joy when you entounter a beautiful panorama. However, the sculptures of nude men with open arms in these images express another emotion, that of the pain of a man on the cross. The images are from 3 different countries - Cambridge/UK, Vienna/Austria and Como/Italy.
यूरोपः फ़ैली बाहें यानि आलिन्गन का आमन्त्रण या सुन्दर प्रकृति के सामने खुशी की भावना की अभिव्यक्ति. लेकिन ऊपर की तस्वीरों में फ़ैली बाहों वाले वस्त्रहीन युवकों की मूर्तियाँ देख कर फ़ैली बाहों का एक अन्य अर्थ दिखता है, सूली पर चढ़े व्यक्ति की पीड़ा. यह तस्वीरें तीन विभिन्न देशों से हैं - कैम्ब्रिज/ईंग्लैंड, वियेन्ना/ऑस्ट्रिया तथा कोमो/इटली.
Europa: Le braccia aperte significano l'invito ad un abbraccio o l'espressione della gioia quando uno incontra un panorama particolarmente bello. Invece le tre sculture degli uomini nudi con le braccia aperte esprimono un'altra emozione, quella del dolore di un uomo sulla croce. Le immagini sono da tre paesi diversi - Cambridge/Inghilterra, Vienna/Austria e Como/Italia.
***