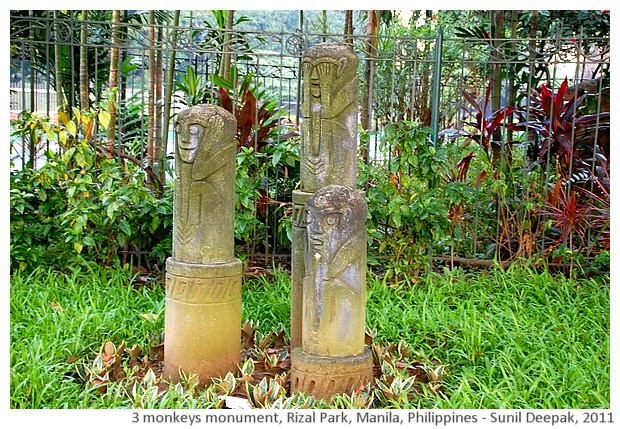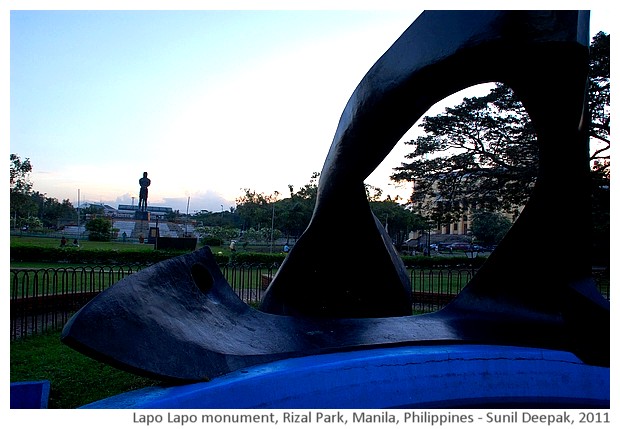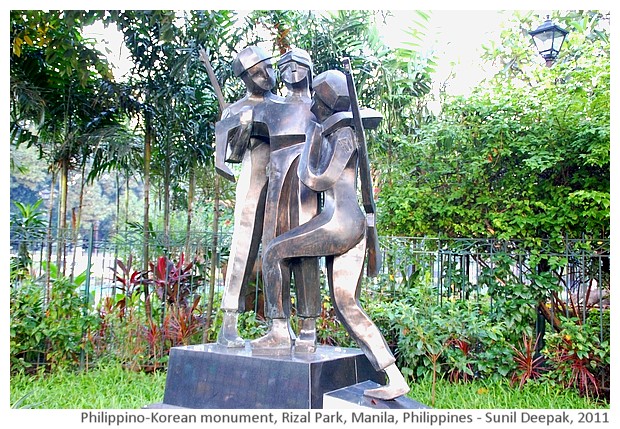 Manila, Philippines: Near the old part of Intramuros, Rizal park is full of monuments. Today's images have 3 of them - the 3 monkeys monument, one with his ears closed, second with his eyes closed and third with his mouth closed, these are also known as Gandhi's monkeys; the monument to independence fighter Lapo Lapo; and, the Philippino-Korean monument for Philippino soldiers who had died in the 1950 war between north and south Koreas.
मनीला, फिल्लीपीनसः पुराने शहर इन्ट्रामूरोज़ के पास रीज़ल पार्क स्मारकों से भरा है. आज उनमें से 3 स्मारक - तीन बन्दर स्मारक, एक कान बन्द किये, एक आँखें बन्द किये और एक मुँह बन्द किये, जिन्हें गाँधी जी के बन्दर भी कहते हैं; स्वतंत्रता सैनानी लापो लापो का स्मारक; व, फिल्लीपीनो कोरियन स्मारक जो उत्तरी व दक्षिणी कोरिया के 1950 के युद्ध में मरने वाले फिल्लीपीनी सिपाहियों की याद करता है.
Manila, Filippine: Vicino la vecchia città di Intramuros, i giardini Rizal sono pieni di monumenti. Le immagini di oggi hanno tre di questi monumenti - le 3 scimmie, uno con le orecchie chiuse, secondo con gli occhi chiusi e il terzo con la bocca chiusa, sono conosciute anche come le scimmie di Gandhi; il monumento al guerriero per l'indipendenza Lapo Lapo; e, il monumento Filippino-Coreano per ricordare i soldati Filippini morti durante la guerra tra le due Coree nel 1950.
***