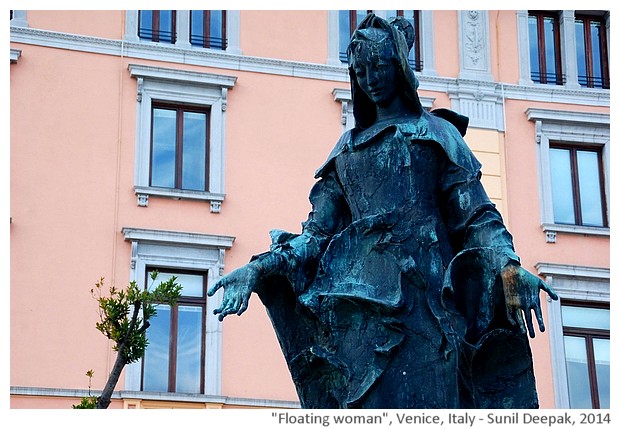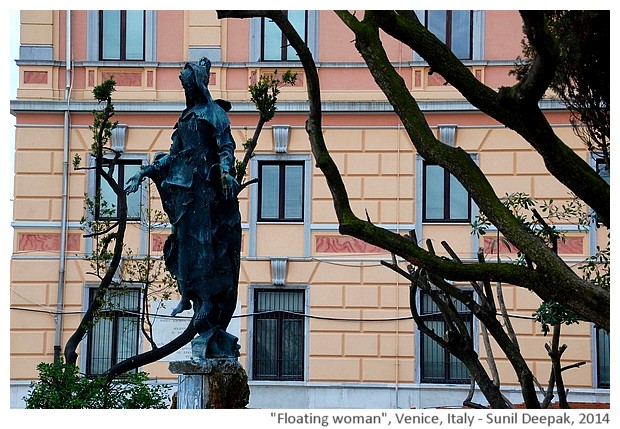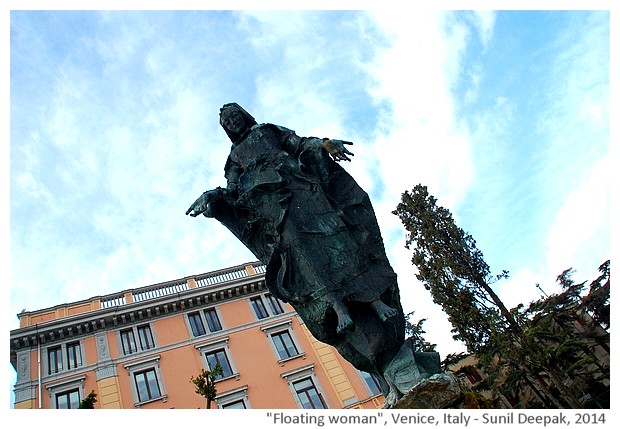 Venice, Italy: When I saw that statue near the railway station, I remembered the song from the Hindi film Ghar (Home) that says "
My feet do not touch the ground these days
". While the song is joyful, the woman of this statue is sad. Her open palms seem to cry out her innocence to whatever crime she is accused of. May be it is the statue of St. Lucy, to whom the railway station of Venice is dedicated?
वेनिस, इटलीः जब रेलवे स्टेशन के बाहर उस मूर्ति को देखा तो "घर" फ़िल्म का गीत याद आ गया, "आज कल पाँव ज़मीं पर नहीं पड़ते मेरे". पर गीत मायूस नहीं खुशी से भरा है, जबकि इस मूर्ति की नारी उदास है. उसने हाथ इस तरह से फैलायें हैं मानो उस पर कोई दोष लगाया गया हो, और वह अपनी निर्दोषता की पुकार कर ही हो. शायद यह संत लूसी हैं जिनका नाम वेनिस के रेलवे स्टेशन को दिया गया है?
Venezia, Italia: Quando ho visto quella statua fuori dalla stazione ferroviaria, ho pensato alla canzone che diceva "
In questi giorni, i miei piedi non toccano la terra
" del film indiano Ghar (Casa). Mentre la canzone è gioiosa, la donna della statua sembra triste. Le sue mani aperte sembrano dichiarare la sua innocenza a qualunque crimine di cui è stata accusata. Forse è la santa Lucia, alla quale è dedicata la stazione ferroviaria di Venezia?
***