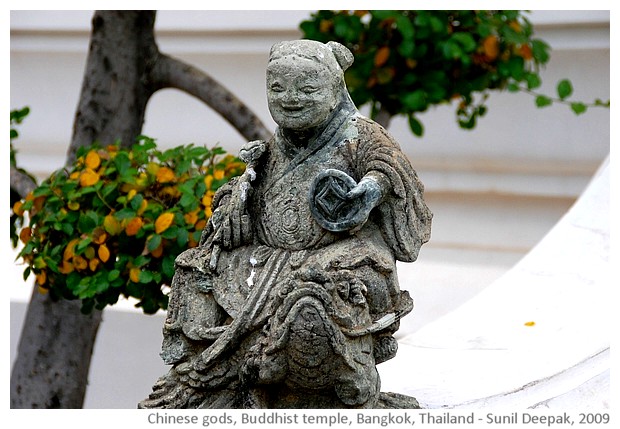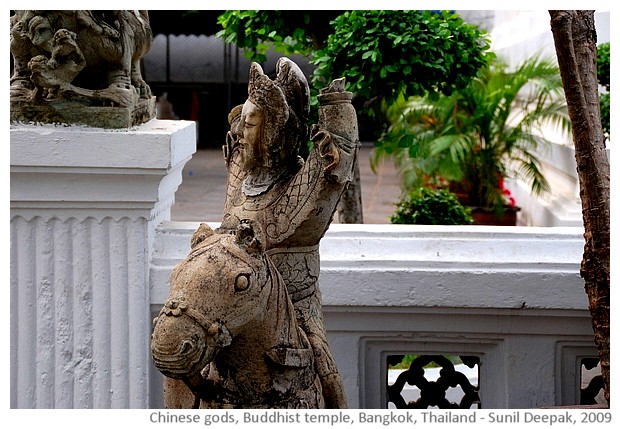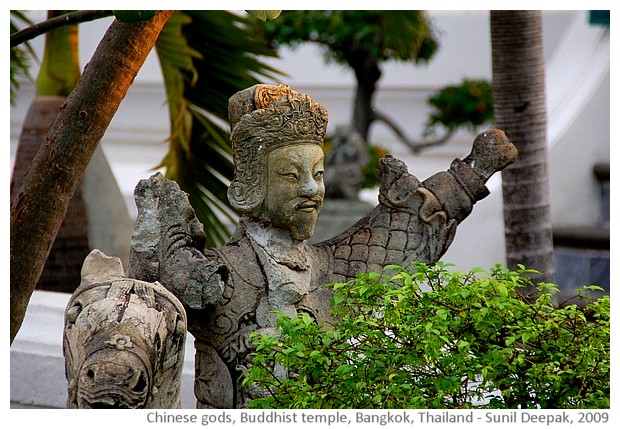 Bangkok, Thailand: When I saw these statues in a Buddhist temple, I thought about the journeys of cultures accross countries and the way they change. First Buddhism must have spread from north India and Nepal towards Thailand, China and countries of East Asia. Then with time, the Chinese Buddhist traditions influenced the countries of East Asia. Thus, Buddhism in each Asian country shows Indian, Chinese and local influences. Now in India, often you can buy Hindu deities made in China - perhaps with time, India's Hinduism will have Chinese influence?
बैंकाक, थाईलैंडः एक बुद्ध मन्दिर के बाहर इन मूर्तियों को देखा तो सोचा कि सभ्यताएँ कैसे विभिन्न देशों में फ़ैलती व बदलती हैं. पहले बुद्ध धर्म उत्तरी भारत व नेपाल से थाईलैंड, चीन तथा पूर्वी एशिया के देशों की ओर फ़ैला. फ़िर समय के साथ चीनी बुद्ध धर्म से जुड़ी प्रथाओं ने भी पूर्वी एशिया के देशों को प्रभावित किया. इस तरह एशिया के हर देश के बुद्ध धर्म में भारतीय, चीनी व स्थानीय प्रभाव दिखते हैं. आजकल अक्सर भारत में चीन में बनी हिन्दू देवी देवताओं की मूर्तियाँ मिलती हैं - शायद समय के साथ, भारत के हिन्दू धर्म में भी चीनी प्रभाव मिलेगा?
Bangkok, Thailandia: Quando ho visto queste statue in un tempio buddista, ho pensato ai viaggi delle culture attraverso i paesi e il modo in cui questi cambiano. Prima il buddismo si era esteso dal nord dell'India e dal Nepal verso la Thailandia, la Cina e gli altri paesi del est Asiatico. Poi con tempo, le abitudini buddiste cinesi avevano influenzato i paesi dell'est Asiatico. Così il buddismo nei paesi dell'est Asiatico mostra influenze indiane, cinesi e locali. Ora in India, spesso si trovano le divinità indù fatte in Cina - forse con tempo, l'induismo indiano avrà le influenze cinesi?
***