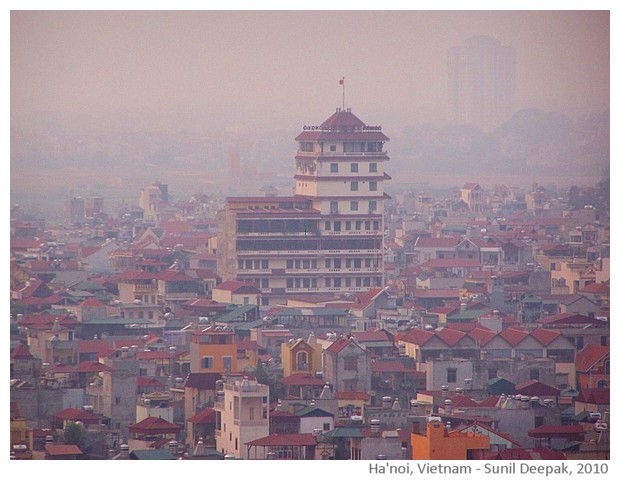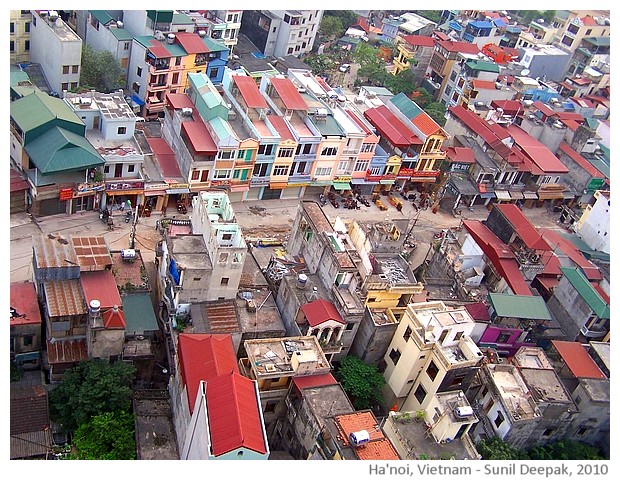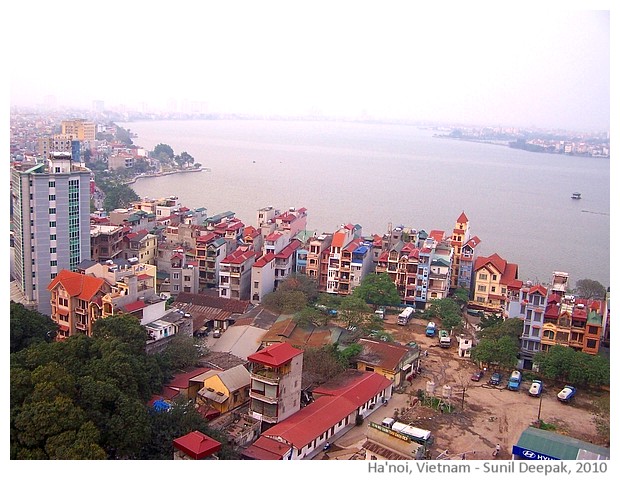 Ha'Noi, Vietnam: There was an old Hindi song, "This is a city of stones, whom can you love here". Modern cities, in different countries, look very similar - narrow houses growing up towards the sky, fog, roads full of cars with angry people stuck inside them - still I do not feel them as "cities of stones". In that crowd and noise, humanity still dreams of a future. Today's images have an early morning Ha'noi.
हानोई, वियतनामः एक पुराना गाना था "
यह तो पत्थरों का शहर है यहाँ किसको अपना बनाईये
". आधुनिक शहर, किसी भी देश में हों, एक जैसे हो रहे हैं - आसमान की ओर बढ़ते संकरे घर, धुँध, कारों से भरी सड़कें और उनमें फँसे हुए गुस्सा होते लोग - पर फ़िर भी मुझे वे पत्थरों के शहर नहीं लगते. उसी भीड़ और शोर में मानवता नये भविष्य के सपने देखती है. आज की तस्वीरों में सुबह का नींद से जागता हानोई.
Hanoi, Vietnam: C'era una vecchia canzone in hindi, "Questa è la città delle pietre, qui chi mai potrà diventare tuo". Le città moderne si assomigliano tutte - strette case che crescono in verticale, nebbia, strade bloccate dalle macchine con gente arrabbiata chiusa dentro - ma, comunque non le sento come "città di pietre". In quelle folle e quel rumore, l'umanità sogna sempre un futuro. Le immagini di oggi hanno Ha'noi, che si sveglia a mattina.
***