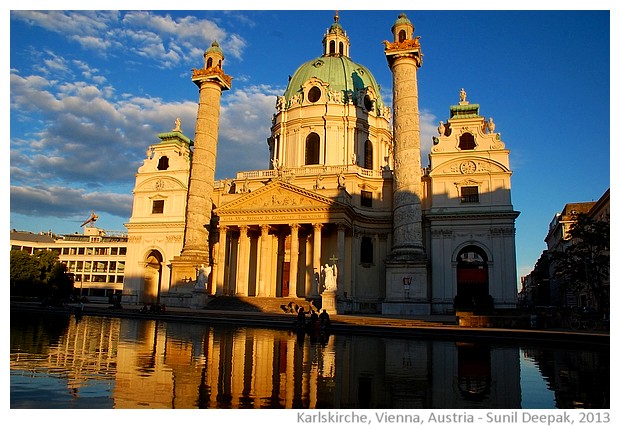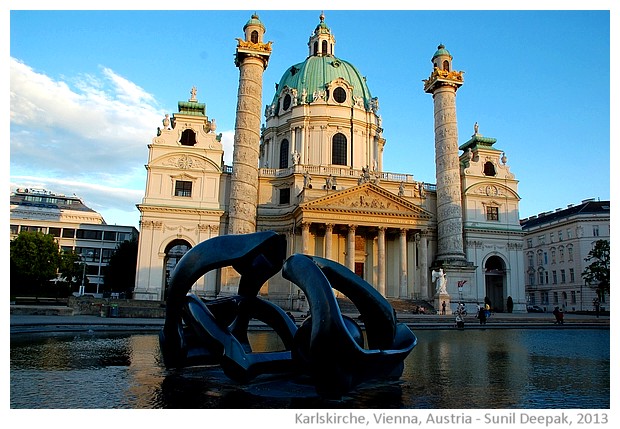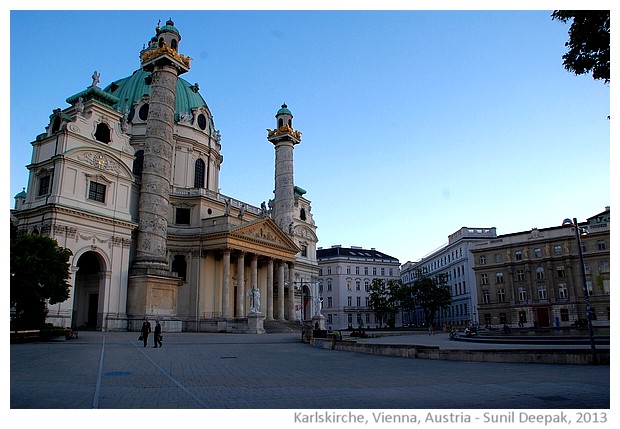 Vienna, Austria: The blue-green dome of Karlskirche (St. Charles church) lit in the evening sun attracted me. On going closer, I liked the way that dome reflected in a small pond in front. The Greek style entrance, two columns inspired from Trajan's column in Rome, the modern sculpture "Hill arches" by Henry Moore in the pond - in spite of being a mishmash of different styles, the total effect was very pleasing.
वियेना, ओस्ट्रियाः डूबते सूर्य की किरणों में रंगे कार्ल्सकिर्शे (सैंट चार्ल्स चर्च) के हरे-नीले गुम्बज ने मुझे आकर्षित किया. पास जा कर देखा तो सामने छोटे से तालाब में प्रतिबिम्बित होता गुम्बज और भी सुन्दर दिख रहा था. यवनी शैली में बना प्रवेश द्वार, रोमन त्रोइआनों के खम्बे से प्रेरित दो खम्बे, सामने हेनरी मूर की आधुनिक कलाकृति "पहाड़ी मेहराबें" - विभिन्न शैलियों की खिचड़ी मिलाने के बावज़ूद कुल प्रभाव बहुत सुन्दर लगा.
Vienna, Austria: Ero attratto dalla cupola verde-azzurra di Karlskirche (Chiesa di san Carlo) illuminata dalla luce del tramonto. Quando sono arrivato più vicino, mi è piaciuto come la cupola si riflette nel laghetto di fronte. L'entrata in stile greco, le due colonne ispirate dalla colonna di Troiano a Roma, la scultura moderna "Archi della collina" di Henry Moore nel laghetto - nonostante il miscuglio di stili, l'effetto complessivo è molto piacevole.
***